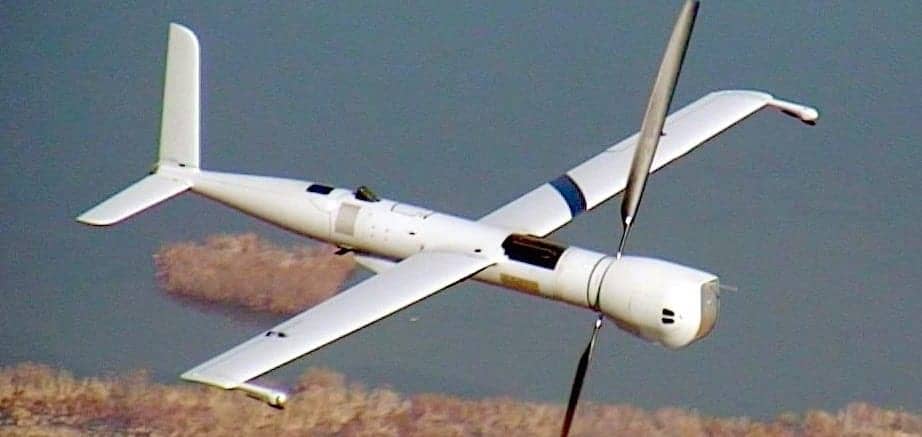 Silvus Technologies has announced that it is supplying the wireless datalink for Aerovel's Flexrotor UAS (unmanned aerial system), which is being entered as Aerovel's bid for the U.S. Army Family of Tactical UAS (FTUAS) program. The Army has released a request for proposals for a Group 2 or Group 3 UAS, seeking multiple suppliers to supply three complete systems that can perform a 96-hour continuous surveillance orbit.
Flexrotor is a 50lb. UAS designed for maritime and land-based operations. Needing only a 20′ by 20′ area for launch and recovery, Flexrotor takes off and lands vertically (VTOL) and easily transitions into horizontal wing-borne flight. It flies completely automatically after takeoff, with no pilot intervention needed.
Silvus' SC4200 is a 2×2 MIMO Software Defined Radio (SDR) featuring a proprietary MN-MIMO waveform which supports high bandwidth Mobile Ad Hoc Networking (MANET) in urban, rural, and maritime environments. Other unique attributes include Transmit Eigen Beamforming (a MIMO technique which boosts signal strength 2-4x), dual-band interference mitigation capabilities, and a miniature form factor 0.75″ thick and the footprint of a typical business card.
Aerovel's Tad McGeer explained: "We use the Silvus radios to downlink real-time video over ranges up to 100 km, and simultaneously to access IP addresses on the aircraft and by relay to other surface stations. The onboard radio provides this throughput while staying within our constraints on weight and power consumption, which are essential for Flexrotor to be both small and highly capable."
Kasey Cooper, Director of Unmanned Systems at Silvus Technologies commented: "Flexrotor introduced a distinct and innovative design to the VTOL UAV market. Aerovel applied this same thoughtful approach when selecting StreamCaster as the default communications solution. We are very proud to provide our technology to Aerovel, providing a competitive edge in the pursuit of the FTUAS program."
Aerovel has teamed with AeroVironment – the Army's biggest supplier of Group 1-sized UAS – to compete for FTUAS. The Army plans to select multiple aircraft to perform a two-year series of demonstrations. The data collected during that phase will inform requirements for a fleet acquisition program.