The SMi Group has confirmed that Rear Admiral (Ret'd) Anthony Rix, Former Flag Officer Sea Training for the British Royal Navy is Chairman for the forthcoming Maritime Reconnaissance and Surveillance Technology conference, taking place in Rome 6-7th February 2019. He writes:
"It is with great pleasure that I invite you to participate in the 4th annual Maritime Reconnaissance and Surveillance Technology event taking place between the 6th and 7th February 2019 in Rome.
We live in an increasingly interconnected world in which developments in technology are enabling a greater understanding of activity at sea. This has implications for almost everything that takes place in territorial waters and on the high seas, both legal and illegal. Maritime Reconnaissance and Surveillance activities are carried out by various platforms in varying domains and results in maritime situational awareness for military and also commercial operators.
This international event brings together experts involved in the development and management of unmanned maritime systems, airborne ISR platforms, and space-based assets to discuss contemporary challenges at sea and how to best tackle them. The application of Artificial Intelligence, Machine Learning and other technologies will further enhance our capabilities. I hope that we will also touch on these areas.
There is therefore a need for a high-level meeting that brings together senior military leadership, commercial shipping companies, project decision makers, and technical experts alongside cutting edge industry solution providers to collaborate on future endeavours that will not only enhance maritime situational awareness but also empower nations and commercial companies to better secure their interests.
Once again, I am delighted to lend my support as the Chairman of this conference because I believe that the Maritime Reconnaissance and Surveillance Technology event is the best forum for fruitful international collaboration.
Could I politely ask that you pay particular attention to our conference agenda which was put together with great care to give you the very best opportunity to learn from subject matter experts relating to the enhancement of maritime situational awareness.
I urge you to join us in February 2019 with many like-minded professionals to ensure that you too can participate in and benefit from this unique opportunity.
Yours Sincerely,
Rear Admiral (Ret'd) Anthony Rix,
Former Flag Officer Sea Training, Royal Navy"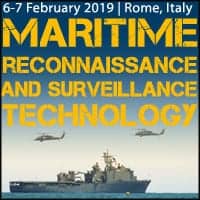 Register for the conference at www.maritime-recon.com
4th annual Maritime Reconnaissance and Surveillance Technology
6th-7th Feb 2019. Crowne Plaza Rome St. Peter's Hotel & Spa, Rome, Italy.
Gold Sponsor: Leonardo, Orbital Micro Systems. Sponsor: Aerodata AG, ICEYE Oy, ImageSat International, Raytheon, Windward.