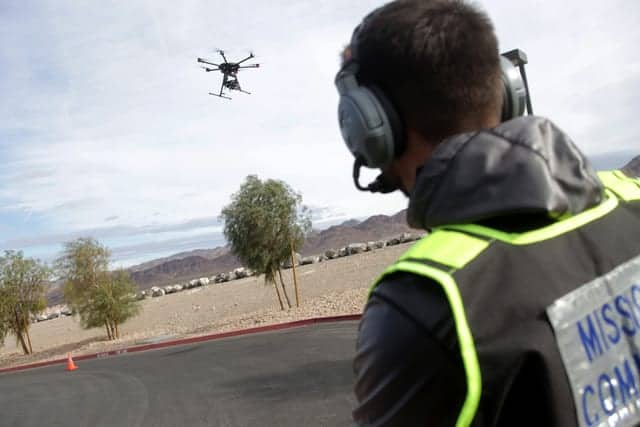 The Nevada Institute for Autonomous Systems (NIAS) has announced that its Unmanned Aviation Test Site has been selected for the U.S. Department of Transportation (DOT) and Federal Aviation Administration's (FAA) Unmanned Aircraft System (UAS) Traffic Management (UTM) Pilot Program (UPP).
The UPP is a milestone pilot program to safely integrate drones into the National Airspace System (NAS). Congress directs coordination, collaboration, development, and publication of a UTM Research Plan and establishment of a UTM Pilot Program (UPP) through the FAA Extension, Safety, and Security Act of 2016. The UPP includes development and demonstration of enterprise services to support initial UTM operations. The innovative Nevada UPP concept is a Smart Silver State (S3) theme to advance the UTM and help the FAA evolve airspace procedures and processes.
"This UPP award is exciting for the state of Nevada, the City of Reno, and the City of Henderson," said Governor Steve Sisolak. "Nevada's key role in this endeavor is just one more example of what our state and communities have to offer in today's most exciting, emerging technologies."
"The State of Nevada is quickly becoming a focal point for the UAS industry," said Reno Mayor Hillary Schieve. "Last year the City of Reno was selected to participate in the FAA's UAS Integration Pilot Program, and now we are very honored to have the opportunity to partner with the Nevada Institute for Autonomous Systems as they conduct testing that will help develop processes for safe integration of drones into the National Airspace."
"Our Nevada Team is very much looking forward to evolving and safely integrating aerial drones into the National Airspace System (NAS). The DOT/FAA UPP, initially launching in the City of Reno has the full support of the Reno Mayor and City Staff, is unlike any other FAA pilot to date, and is a major stepping stone for growing the Nevada and National UAS Industry. Our participating partners are the very best across the UAS Industry and each one brings an incredible capability to Nevada and we are looking to make the state the global location of choice for Smart Communities and Drone Technologies," said Dr. Chris Walach, Executive/Senior Director of all FAA-designated Nevada UAS Test Sites and Nevada Institute for Autonomous Systems.
The Nevada UPP will focus on advanced airspace, drone, and sensor technology for safe drone airspace operations in an urban environment. The Nevada UAS Test Site proposal included over 20 Nevada-based, out of state Nevada Teammates, and international partners and will be demonstrated in the City of Reno with additional testing in the City of Henderson or Town of Laughlin, Nevada.