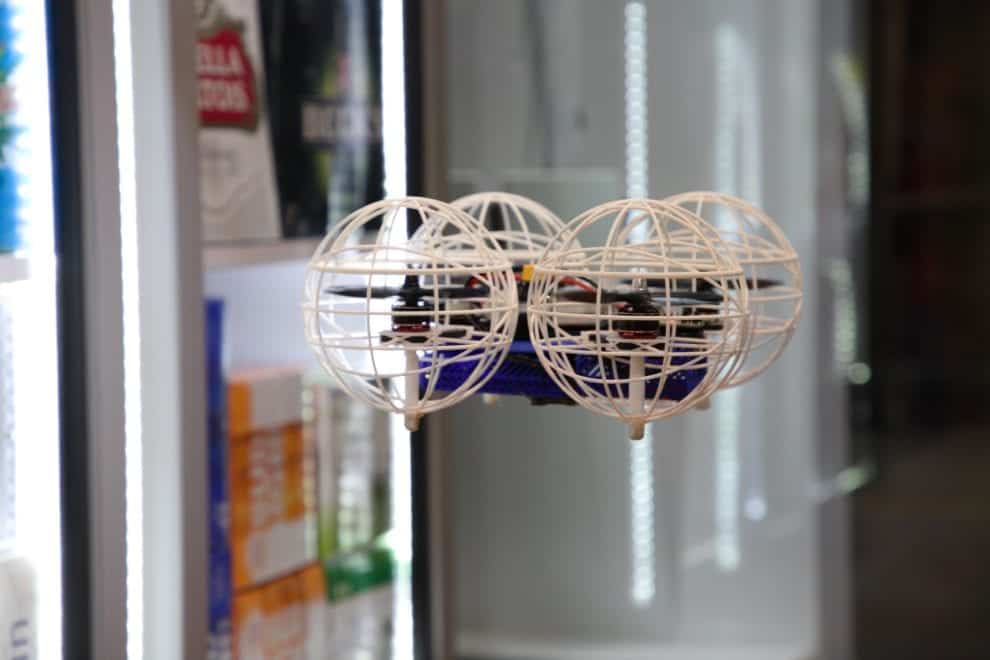 Pensa Systems, a developer of autonomous perception systems, has announced that it has developed a UAV (unmanned aerial vehicle)-based retail inventory visibility system designed to inform retailers and brands of what is actually on shelves – across all stores, everywhere, at any point in time.
Pensa's approach uses computer vision to "see," patent-pending artificial intelligence to learn, analyze and conclude, as well as agile, autonomous drones as roving eyes to automate high value visual tasks. Pensa's broadly scalable system provides complete, real-time and actionable data and insights, enabling CPG brands and retailers to automatically and systematically track in-store inventory.
"You can't sell what you don't have on the shelf. In-store inventory visibility remains a giant black hole for the retail supply chain," said Richard Schwartz, president and CEO of Pensa Systems. "Retailers and brand manufacturers have tried all combinations of robots, cameras and smart shelving, but these solutions are too expensive, inaccurate and brittle. Pensa addresses this problem differently. By combining AI smarts in the cloud with inexpensive drones for remote data collection, we have created a scalable solution that can break the logjam."
Pensa will demonstrate its autonomous perception system at a mocked-up retail store at the National Retail Federation (NRF) 2019 trade show. Pensa's system, utilizing Intel in-store edge servers with Intel architecture to power the analytics, will be featured as part of Intel's future of retail showcase, further highlighting the importance of real-time insights and how smart analytics can digitally transform stores. Pensa's autonomous drone rapidly scans and automatically senses shelf conditions in the beer section of that store with high accuracy. It then reaches conclusions and makes predictions about stockouts and other conditions for sale. Anheuser-Busch InBev (AB InBev) — which is a Pensa customer and strategic investor through its ZX Ventures growth and innovation unit — has partnered with Pensa on the demonstration, which is based on a real-world pilot with AB InBev.
Pensa has performed multiple live trials of its system, working with major CPG brands and retailers. The system has been piloted in multiple countries on multiple product categories and SKU formats in a variety of shelf conditions, including dry shelf as well as open and closed-air coolers. With minimal changes or integration required at retail locations, the system can scale quickly across stores and product categories, so brands and retailers can minimize stockouts, optimize product planning and increase revenues.
Pensa recently completed a successful pilot of its new inventory visibility system with global beverage company AB InBev in the heavily trafficked store of retail partner IGA Extra Beck in Montreal, Canada. With less than 90 minutes of set-up time, Pensa's drone-based system collected hourly and daily data on out-of-stocks and real share-of-shelf within the beer section. Over a period of two weeks, Pensa's system scanned dry shelves and coolers with multiple product types (i.e., cans, bottles, packs), capturing 15.9M SKU images during 200 flights (totaling 2 miles of travel), with its continuously learning accuracy already reaching 98 percent for out-of-stock detection.
"Retail out-of-stocks represent a significant challenge for CPG companies and their retail partners, as they can lead to millions of dollars in lost sales," said Andrew Green, Global Director of Innovation at AB InBev. "We are very enthusiastic about Pensa's novel approach to retail inventory visibility and look forward to testing it in further commercial environments."
"Any solution that can help us maintain store integrity and ensure we don't have out-of-stocks provides the competitive advantage we need," said Todd Beck, owner, IGA Extra Beck. "The ability to learn about a potential out-of-stock situation hours ahead of when our manual systems might notify us represents an opportunity to drive incremental sales and make customers happier in the process. The immediate feedback we can get from the Pensa system can offer tremendous value to our business."