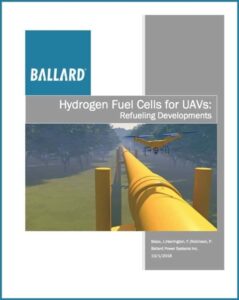 Ballard Power Systems, a leading provider of innovative clean energy solutions and fuel cell technologies, has released a whitepaper outlining the current state of fuel cell technology for unmanned aerial systems (UAS) as well as the economics and logistics of providing hydrogen to drone operators in the field.
Download the full whitepaper from Ballard's website
The paper gives details of:
UAS hydrogen consumption metrics during flight missions and fleet operational schemes
Onboard and ground hydrogen storage systems
Approaches to refilling compressed hydrogen tanks, including blowdown and boost compression
Generating hydrogen for onsite operations via electrolysis
A comparison of liquid hydrogen tank metrics
There are a variety of hydrogen storage and refueling solutions for PEMFC (proton-exchange membrane fuel cell) powered UAV systems, with each approach providing distinct benefits for particular UAV mission requirements and budgets. To find out more, download the whitepaper from Ballard's website.