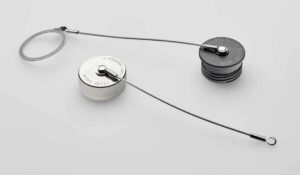 TE Connectivity, a provider of interconnect solutions, has announced that it has expanded its range of MIL-DTL-38999 series III qualified products with the addition of DEUTSCH 38999 series III metal protective covers.
The lightweight, rugged metal covers help mechanically protect and seal 38999 series III connectors and their harnesses from dust, foreign objects and moisture when the connectors are unmated. TE's DEUTSCH metal covers use ACME triple start threads to increase robustness and reliability in harsh environments. DEUTSCH metal covers are suitable for the many harsh applications in which 38999 series III connectors are found, such as unmanned aerial vehicles (UAVs), ground robots and other unmanned systems.
"Our customers in the military and aerospace markets now have a new source for qualified metal protective covers, helping improve convenience and simplify procurement," said Scott Miller, manager of product management for TE's Aerospace, Defense and Marine division.
TE's DEUTSCH metal protective covers are qualified to MIL-DTL-38999 series III, D38999/32 and D38999/33. Customers can select from a variety of plating configurations and shell sizes to find the right cover for their application.