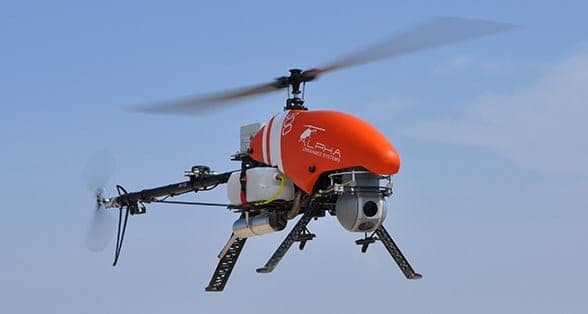 Alpha Unmanned Systems has announced that it has provided the Spanish Armed Forces, through the DGAM (Dirección General de Armamento y Materiales), with two of the company's Alpha 800 UAV (unmanned aerial vehicle) helicopters.
The Alpha 800 is a tactical 14 kg gasoline-powered helicopter that provides 3 hours of continuous flight with a 3 kg payload and 30 km of operating range. It is equipped with a light and strong airframe in its class and a military-grade autopilot with high precision GPS and sensors. The Alpha 800 was originally conceived for intelligence, surveillance, reconnaissance (ISR) and for delivery of urgently needed supplies. It has been put to the test for UXO detection (unexploded ordnance) and is used in more than 5 countries for a wide variety of missions.
"The acquisition of these two Alpha 800 units by the Spanish Army is a great honor for Alpha and is a very important development for our Company," said Eric Freeman, CEO of the Spanish company. "Spain's Military Forces are well renowned and are an important member of NATO. UAVs will be essential for military missions and First Responders in the future and I am delighted that Alpha Unmanned Systems can support the Spanish Military."
The Alpha 800 is used from Indonesia to Hungary, for border control and surveillance. The Company offers advanced UAV engineering services to global defense clients and its Alpha 800 helicopter UAV platform to both military and civilian customers.