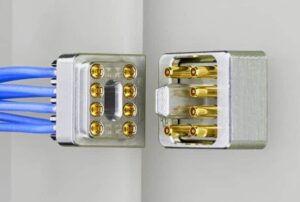 TE Connectivity has announced the release of its new NanoRF modules and contacts, which double the density of today's VITA 67 RF modules for VPX embedded computing applications.
This high frequency nanominiature coax contact is engineered with smaller contacts and a higher RF contact density within a multi-position module. This design enables smaller packaging and saves valuable space, making the modules ideal for space-constrained applications such as unmanned systems. Half-size modules can support up to 12 RF contacts and full-size modules can support 18 contacts or higher, with the option to customize contact count and position.
TE's NanoRF modules feature blind-mateable, float-mounted backplane contacts that support module-to-module or box-to-box architecture. While they are designed for 0.047-inch coax cable, multiple cable types are available to fit the application's needs. To bring high frequency capability into a high density modular package, the contacts are optimized for signal integrity and support frequencies up to 70 GHz.
The NanoRF's design features a floating insert on the backplane side, with guide features to pre-align the array of contacts before they engage. This results in reliable mating and consistent RF performance up to 500 mating cycles.
"NanoRF offers outstanding high frequency coax contact density in a rugged modular package, which is ideal for providing reliable RF performance in harsh environments," said Mike Walmsley, global product manager for TE's Aerospace, Defense and Marine division. "It has been tested to VITA 72's high vibration standards and is ready for VPX open architecture under VITA 67.3 — with a roadmap for expansion into other high-density packages."