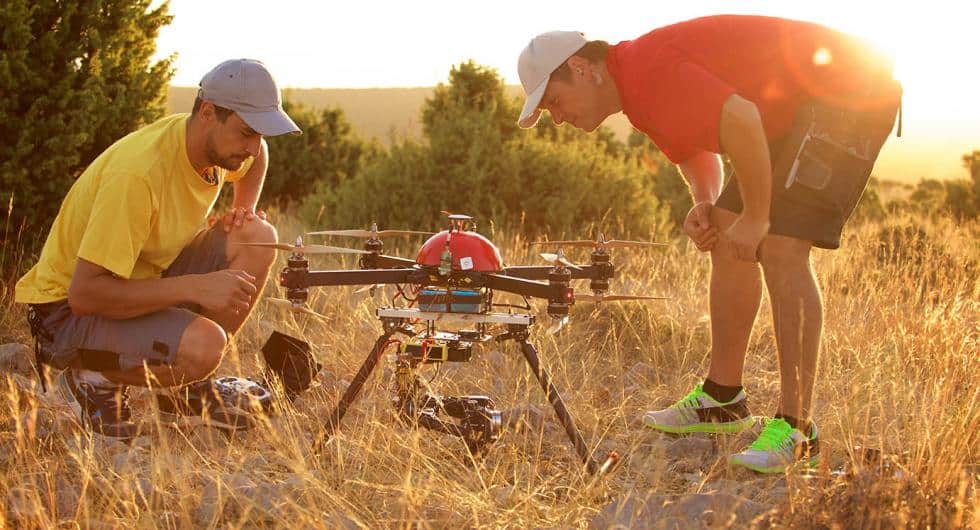 The Association for Unmanned Vehicle Systems International (AUVSI) has announced the launch of its new Trusted Operator Program (TOP) – giving unmanned aircraft systems (UAS) operators a way to increase their safety and boost their standing in the marketplace.
Interest in becoming a commercial drone operator has been growing, but so far, from a regulatory perspective, there has been little available to allow an operator to stand out from the crowd and demonstrate competency or proficiency. While numerous training courses exist, there has been no industry unification for competency training or testing.
"This affects the end users of drone-enabled services, as there was no clear mechanism to ensure that the customer is going to receive what they believe they are paying for," says Tracy Lamb, AUVSI's vice president of regulatory and safety affairs and chief pilot.
For example, "public safety agencies had no way of knowing the level of knowledge or experience of the volunteer remote pilots that offered to help in natural disaster and for search and rescue operations."
AUVSI has worked with industry experts to create TOP, to raise the trust and acceptance of the use of unmanned aircraft around the world. TOP is a professional unmanned systems community initiative aimed at supporting industry accepted remote pilot standards and protocols, which will result in the safe and sustainable advancement of the industry.
Under the program, UAS operators will be able to achieve three levels of certification, each a series of checklists of practices, skills and competencies "that all professional remote pilots and operators should follow, no matter in what part of the world they operate," Lamb says.
TOP uses a set of protocols from many relevant standards from such bodies as ICAO, ANSI, SAE, ASTM, NIST and others. It also includes aviation regulations from the Federal Aviation Administration, Civil Aviation Safety Authorities, Directorates General of Civil Aviation and others.
"There are many standards that are applicable to UAS operations," Lamb says. "How do you know which ones to follow, and when do you follow them?"
All three TOP levels are aimed at both individual remote pilots and commercial UAS organizations. Each level of certification reflects the level of skills, qualifications, knowledge and safety protocols require to operate in different industries.
Level one covers relatively low-risk operations for flights under Part 107 FAA restrictions that don't require a waiver, such as flights during the day, below 400 feet and away from people.
Level two would be suitable for companies that want to conduct flights near expensive infrastructure, such as power lines or wind turbines, or any operation that would require an FAA waiver.
Level three would address flights in "safety critical" environments, such as near chemical, oil, gas, nuclear or mining facilities, even if they are offshore and no waiver is required.
"TOP Operator level three is the highest level to which a professional remote pilot or commercial organization can be certified," Lamb says. "An organization at this level would follow a more comprehensive set of standards, and their remote pilots would have demonstrated flight proficiency and competencies to this level."
For example, a Realtor who wanted to become a level one TOP Operator would contact a TOP training provider (listed on the AUVSI website) who would then supply the Protocols Certification Manual and guide the student through the required learning to gain both their remote pilot certificate under the FAA's Part 107, as well as the TOP level one remote pilot certificate.
If the Realtor already had a Part 107 remote pilot certificate and had taken a training course, they could contact a TOP certifying body, who would provide the certification manual, verify their records and then issue the TOP level one certificate.
The TOP Certification Manual has checklists for both individuals and companies. For instance, a company might need to check that they have a designated "responsible person" for all UAS operations, whereas an individual would be that person. Both would need to verify that they maintain their aircraft and know the airspace they are flying in, as well as monitoring their surroundings and the weather.
Once operators receive their certification, AUVSI lists them in a searchable TOP Registry, where those looking to find and hire a qualified UAS operator can easily find a TOP-certified operator for their needs.
Embry-Riddle Aeronautical University, Praxis Aerospace Concepts, Consortiq, Dart Drones and SGS Aerospace are the initial organizations that have received TOP certification. They will apply the TOP protocols in their UAS education and assessment programs so students are TOP certified upon graduation. Experienced remote pilots can apply for certification based on their qualifications, experience and competency.
"The TOP reflects levels of safety and competency protocols that are appropriate for everything from wedding photography to oil flare stack inspections," said Brian Wynne, President and CEO of AUVSI. "By providing UAS operators and those they enable with a standard way to demonstrate proficiency, TOP will help ensure the safe and sustainable advancement of the unmanned systems industry."