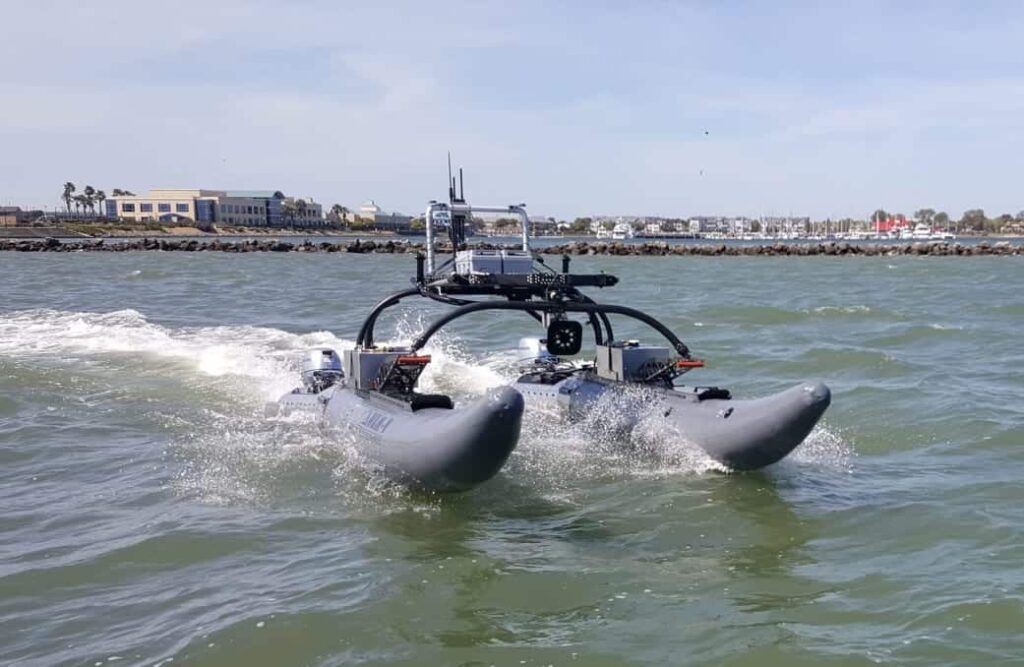 Marine Advanced Research has announced that the first of the company's new 20' WAM-V USVs (unmanned surface vessels) has been delivered to TeamTao, a finalist in the Shell Ocean Discovery XPrize competition. The new WAM-V has a range of over 400 nautical miles, can carry up to 600 lbs of payload, has a top speed of 15+ knots, and has passed rigorous open-ocean testing to ensure it is a stable platform for sensor deployment.
"This is an exciting addition to our product lineup," said Marine Advanced Research President and CEO Mark Gundersen, "with multi-day endurance in blue water, it brings a host of new capabilities to the marketplace."
Nick Ridley, TeamTao's surface system design lead commented, "We searched the global market for a suitable ASV platform. The catamaran system from WAM-V, with its stabilized payload platform and proven remote and autonomous capability, became the clear winner. Its scalability and deployment flexibility make this system a great base platform as we grow into the future." The 20' WAM-V ASV will be used by TeamTao to launch and retrieve a swarm of undersea drones capable of mapping the ocean floor at a depth of 4km.
"TeamTao needed a vessel that could deliver and recover multiple payloads in an open ocean environment while at the same time quickly reduce its size to fit into a standard 20' ISO container for shipment," said MAR representative Kurt di Sessa. "We're proud that we were able to design, prototype, test, and deliver that solution on schedule to support their XPrize bid."
Marine Advanced Research is planning a production run of 20' WAM-Vs configured for hydrographic survey and oceanography, starting in 2019. The WAM-V is an innovative class of watercraft from 8' to 150' that can be tasked with port surveillance and security, UAV (unmanned aerial vehicle) & UUV (unmanned underwater vehicle) deployment and retrieval, MCM (Mine Countermeasures), nodal communications, benthic operations survey, maritime interdiction, and offshore oil and gas operations.