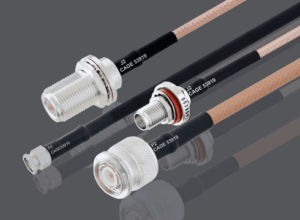 Pasternack, a developer of RF, microwave and millimeter wave products, has introduced a new line of military-grade MIL-DTL-17 RF cable assemblies that are designed for autonomous vehicles such as UAVs (unmanned aerial vehicles) and other avionics and military applications.
Pasternack's new series of military-grade cable assemblies consists of 124 basic configurations from six different cable types for a total of more than 700 part numbers. These cables provide operating frequencies of up to 12.4 GHz and VSWR as low as 1.3:1 per connector. They are made from MIL-DTL-17 qualified cable, MIL-PRF-39012 qualified connectors, AS23053 heat shrink and J-STD soldering. The final commercial off-the-shelf (COTS) cable assemblies are 100% tested and include a test report, as well as material lot traceability.
"We are excited to offer this new line of cable assemblies with such a high service level. In the past, customers would wait weeks or months for cables built to these specifications and with traceability. Now, they can select from hundreds of different COTS solutions and have the cables shipped same-day with test reports," said Dan Birch, Product Manager.