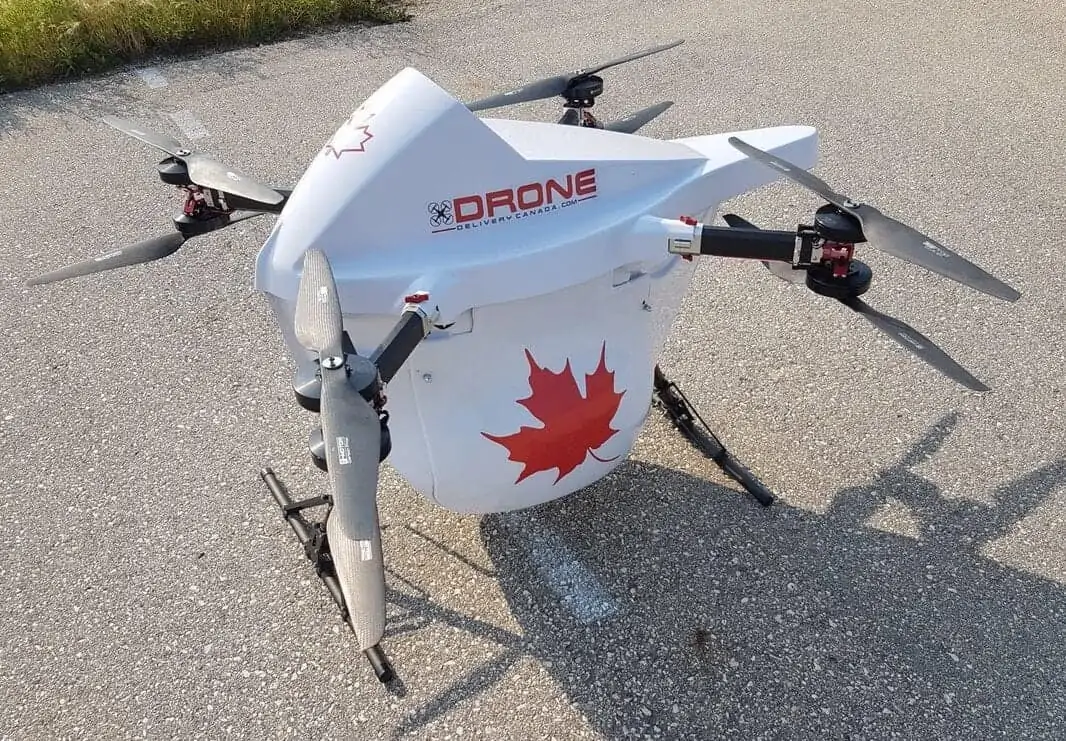 Drone Delivery Canada (DDC) has announced that the Company has conducted numerous successful drone delivery test flights in the communities of Moosonee and Moose Factory, Ontario as part of DDC's Beyond Visual Line-of-Sight (BVLOS) Pilot Project. Operations under the BVLOS Pilot Project were approved by both Transport Canada and NAV CANADA and were flown in the Class E controlled airspace surrounding the Moosonee airport.
The Pilot Project flight operations were conducted in both day time and evenings on a set of approved flight paths. Throughout the Pilot Project, DDC worked closely with Transport Canada and NAV CANADA to ensure safety while also demonstrating the efficiency and efficacy of its Sparrow drone as well as its proprietary FLYTE management system. No flight safety incidents occurred, and each mission was completed successfully.
DDC's Sparrow X1000 cargo drone and DDC's proprietary FLYTE management system successfully delivered medical supplies, dry blood spots kits for HIV, Hepatitis C and general blood chemistry testing, as well as food, automotive parts and general parcels for many of DDC's customers which were present for the Pilot Project. These flights were conducted both to and from Moosonee and Moose Factory.
It is noteworthy that Drone Delivery Canada was approved to conduct its BVLOS Pilot Project in controlled airspace and while communicating on standard aviation frequencies in accordance with the Canadian Aviation Regulations. These are the same frequencies and communications protocols used for general aviation and commercial aircraft. Under the BVLOS Pilot Project, DDC was assigned the call sign "Sparrow 1".
"We achieved our mission flawlessly," commented Paul Di Benedetto, CTO. "On behalf of the Company I would like to sincerely and publicly thank the staff from the Transport Canada RPAS Task Force, NAV CANADA, The Moose Cree First Nation, the community of Moosonee, the MoCreebec community and all the team at DDC for the tireless effort put forth. The collaboration by all parties provided critical data which will set the foundation for success and further solidify the great working relationship between Government and DDC."
"Living in Canada's north comes with challenges. The community was extremely excited to see the benefits of DDC's drone delivery solution as a means to help mitigate our daily challenges, improve our logistics, lower our costs and bring employment to our region. We are very happy to be working with Drone Delivery Canada and see the immense benefit to our community and to other communities in the region," commented Stan Kapashesit, Director of Economic Development Moose Cree First Nation.
In Canada, there are approximately one thousand remote communities, and almost all face similar infrastructure and logistics challenges that contribute to a high cost of living. DDC looks to provide a cost effective and highly efficient logistic solution to these communities to improve lives and to create jobs in Canada's north all while reducing costs.
"We are very thankful to the authorities for approving our flight path to connect these communities," commented Tony Di Benedetto, CEO of Drone Delivery Canada. "It is not an easy feat at all to achieve what we have accomplished. DDC has created an innovative logistic solution allowing a drone to deliver parcels in non-segregated Canadian airspace. As a starting point we intend on targeting outlying communities which experience on-going and difficult infrastructure challenges. To address these challenges, in the not so distant future we will work closely with Transport Canada and NAV CANADA in order to deploy our technology and establish 'railways in the sky' where our drones can integrate into existing Canadian airspace to connect communities to one another and provide efficient and cost-effective means of delivery."