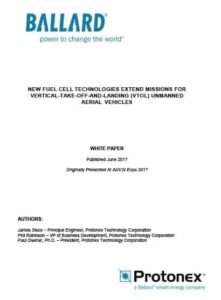 Ballard Power Systems, a leading provider of innovative clean energy solutions and fuel cell technologies, has released a whitepaper outlining how recently-developed fuel cell-based technologies can prolong the duration of VTOL (vertical take-off and landing) unmanned aerial vehicle (UAV) missions by up to a factor of three compared to batteries.
Download the full whitepaper from Ballard's website
The paper gives details of:
Proton-exchange membrane fuel cell (PEMFC) technology, including the various subsystems
The benefits and drawbacks of air-cooled and liquid-cooled PEMFC systems
Methods of storing hydrogen aboard a UAV
Battery and fuel cell performance metrics for two multirotor UAV platforms
The paper shows how proton exchange membrane fuel cell power systems can be an attractive alternative to current battery-based power system solutions for a range of VTOL multi-rotor UAV systems in the 3-25kg range. To find out more, download the whitepaper from Ballard's website.
Find suppliers of Fuels Cells for unmanned applications >