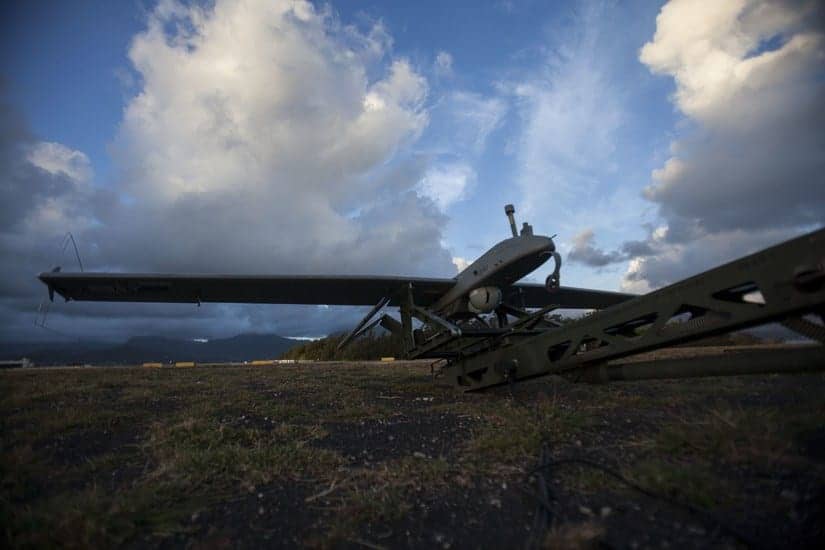 The U.S. Department of Defense has announced that the RQ-7B Shadow unmanned aerial system (UAS) has been retired after its final flight during the culmination event for the Rim of the Pacific exercise at Pyramid Rock Beach.
Marine Unmanned Aerial Vehicle 3 was the last squadron to use the Shadow. The other Marine Corps unmanned aerial vehicle squadrons have already transitioned to the RQ-21 Blackjack.
Marine Corps Master Sgt. Madhur Sawhney, an air crew chief with operations and training for Marine Aircraft Group 24, said the Shadow's support for Rimpac operations was vital.
"The Shadow provided real-time footage of the objective area for the Marine Air-Ground Task Force commander to guide his decisions," Sawhney said. "Prior to any forces landing on the beach, we were up in the air gathering intelligence alongside our other air combat element aircraft."
He added that while the Shadow has been a versatile system that makes a difference during missions, the transition to the new Blackjack makes the Marine Corps mission to be expeditionary even sharper.
Marine Corps Capt. Mathew Kramer, an unmanned aerial vehicle commander with VMU-3, said the last flight was the end of an era. "Variances of the RQ-7 have been flying since Operation Desert Storm, throughout the wars in Iraq and Afghanistan, right up until operations ceased," he said. "It's exciting to see how the Blackjack will perform."
Sawhney said the transition continues a long line of progress. "Serving for as long as I have, we have retired multiple platforms over the years to continuously be a more effective force to assist in operations," he said. "The last flight of the Shadow is a positive direction towards returning to our expeditionary roots."
The San Antonio-class amphibious transport dock ships that are part of amphibious ready groups and Marine expeditionary units will be able to launch the Blackjacks, Sawhney said. He noted that the new platform is lighter and smaller than its predecessor.
"The Blackjack has a smaller footprint with a 16-foot wing span and a lighter weight distribution at 135 pounds when wet, with an average flight time of 10 hours," he added. "Before the Blackjack, a detachment to support the Shadow mission included around 70 Marines, but now it's decreased to 21 personnel."
Sawhney said as the mission continues, technology will also continue to advance and lead unmanned aircraft systems to return to their expeditionary roots.