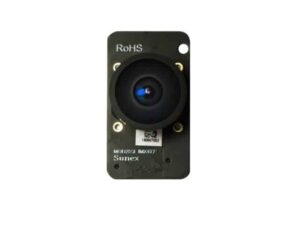 FRAMOS has announced that it is distributing the first sensor module from Sunex Optics, the MOD255I, based on its 4K Miniature DSL255 SuperFishEye Lens for easy digital video device development with embedded vision. The high-resolution module provides up to 12 Megapixel resolution images and incorporates a Sony 1/2.3 type CMOS image sensor that includes an active pixel array of 4072H x 3062V. The high-performance MOD255I sensor module is an ideal component for manufacturing consumer and security devices capable of continuous video and still images.
The MOD255I module is a compact design and can easily be integrated into any embedded vision application, including unmanned aerial vehicle (UAV) security and surveillance, imaging, and video communications. Sony's IMX477 CMOS consumer sensor delivers 12 MP at 60 frames per second, or 4K2K video at the same frame rate. The fully integrated and dynamically aligned lens provides a wide 190° field of view at a design image circle of 4.3mm. In addition, it achieves high performance in low light with an F/2.0 aperture.
Darren Bessette, Category Manager Devices at FRAMOS, says: "Sunex's MOD255I sensor module offers an excellent high-performance feature set. Together with its thermal stability and low power source requirements and consumption, it is ideal for security and industrial action cams delivering high-resolution video in real-time for indoor and outdoor applications like drones, bank machines, smart home surveillance, board-room video, or sports cameras."
The module's MIPI interface offers 4 bus lanes at 2.1 Gbps for 12-bit digital output with both line scan and frame rate synchronization. The MOD255I module provides excellent electromagnetic interference (EMI) and electromagnetic compatibility (EMC) to minimize interference in truly embedded systems and devices. Consequently, the actively aligned lens included in this module demonstrates improved and uniform image quality.