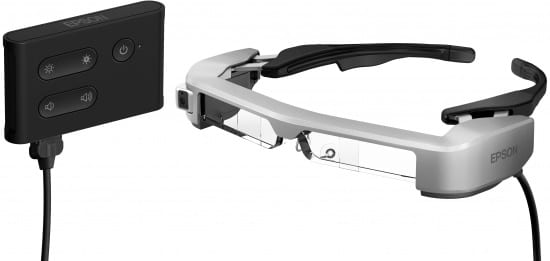 Epson has announced the launch of its new Moverio BT-35E Smart Glasses. Designed for use with existing hardware devices and featuring an interface unit with HDMI and USB Type-C ports to connect to popular output devices, the Moverio BT-35E Smart Glasses blend digital content into the real world. The new smart glasses are designed for applications including piloting of unmanned aerial vehicles (UAVs).
"Prior to the new Moverio BT-35E Smart Glasses, Moverio products have been standalone, and have included an Android based controller unit," said Leon Laroue, technical product manager, augmented reality solutions, Epson. "Developed from customer insights, the Moverio BT-35E Smart Glasses represents Epson's first smart glasses that provide users with wider access to content that they want on a wearable display through existing output devices."
The Moverio BT-35E functions as a wearable display for any standard HDMI (HDMI1.4) output device, as well as any USB Type-C output device supporting DisplayPort Alt Mode, eliminating the need to create or port new content to the Moverio platform.
Comfortably and durably designed for daily use, the Moverio BT-35E glasses allow users to keep their display in front of them as they carry out their tasks allowing for increased productivity. Offering an easy out-of-box experience, the Moverio BT-35E smart glasses provide easy plug-and-play operation with no special software required.
The Moverio BT-35E Smart Glasses are equipped with several new features, including:
Highly transparent Si-OLED HD wearable display gives users a second-screen experience that seamlessly blends digital content into the outside world
Compatibility with popular HDMI 1.4 and USB Type-C output devices, including Android mobile devices
When used with a compatible USB Type-C output device, the interface does not require an external power source
Dual (Binocular) displays, ideal for stereoscopic 3D content
ANSI certified protective shield allows glasses to be worn in a variety of commercial environments that require safety glasses
HDCP 1.4 support for copyright protection enables access to protected content