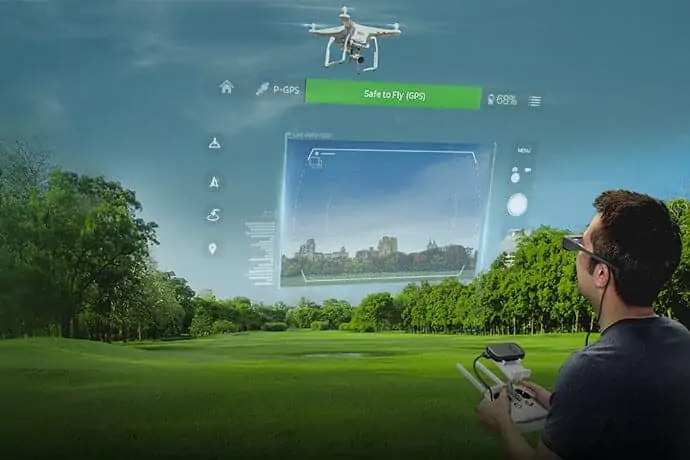 Epson has announced the launch of the Epson Drone Soar app, the first full-featured AR app for DJI drone pilots using the Epson Moverio augmented reality (AR) Smart glasses platform. The Epson Drone Soar app delivers AR experiences for DJI drone users, including rich AR content, flight telemetry data and video feed monitoring.
Developed by Silicon Valley-based YML exclusively for the Epson Moverio BT-300 (FPV/Drone Edition), the Epson Drone Soar includes features designed to seamlessly enhance pre-flight visualization, real-time flight assistance and post-flight visualization experiences. The app was designed in collaboration with DJI to improve the safety, productivity, and capabilities of DJI drones for hobbyists and professionals alike.
Enabling a hands-free, heads-up experience with the Epson Moverio BT-300FPV Drone Edition glasses, the application delivers rich AR features to DJI drone pilots. This functionality allows pilots to simultaneously see crucial telemetry data, augmented flight tools, and real-time video feeds, all while remaining within line-of-site of their drone. As the data is displayed directly in front of the user, pilots using the Epson Drone Soar app no longer need to look down continuously at their mobile device.
"By combining the power of augmented reality delivered by the Epson Moverio BT-300 AR smart glasses and YML's superlative design, the heads-up app is redefining the way drone enthusiasts experience their aircraft," said Romsin Oushana of DJI Partnerships. "Available to the consumer market for the first time, the app enables users to push the limits of drone piloting in ways that have never been done before."
The Epson Soar app's features include:
Downloadable Map: Users can select the region of the map they want to download for offline usage
Pre-Flight Status Check: Notifies users of flight restrictions or if something needs to be changed before takeoff
Drone Connect: Easily accessible view of drone vitals including flight status, battery, HD mode, altitude and more
Smart Mode: Users can select and switch between over ten smart modes for desired flight experience
In-flight Camera Setting Editing: Enables users to edit camera settings of drone while inflight or when connected to select optimal settings for shooting conditions
"At Epson, we are focused on expanding the drone market and providing cutting-edge AR technology that will make it more accessible for consumers," said Eric Mizufuka, product manager, Augmented Reality Solutions, Epson America. "With this app, training to be a better drone pilot has never been easier."