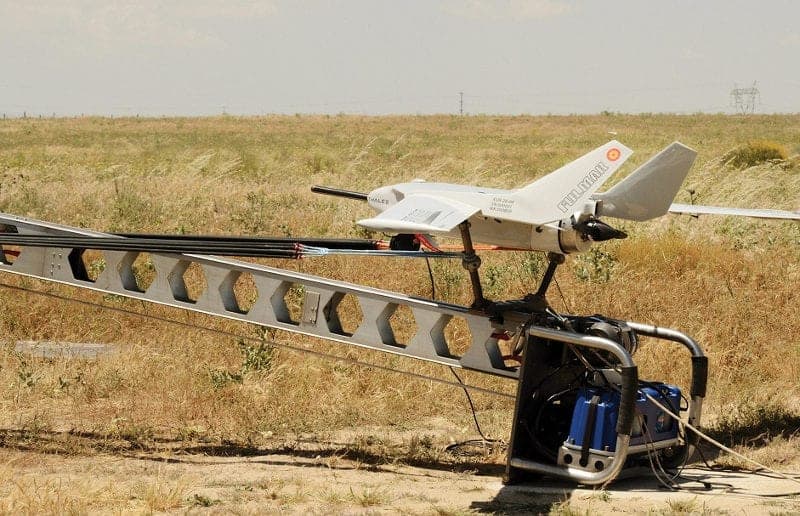 Thales has announced that it has been awarded two contracts by Spain's Directorate-General for Armament and Material (DGAM) to provide Intelligence, Surveillance and Reconnaissance capabilities to the Spanish Navy and Army.
The Spanish Navy has selected the Fulmar X fixed wing unmanned aircraft system (UAS) for the testing and evaluation of UAS in maritime environments. Fulmar X's maritime version is highly versatile, allowing the aircraft to take off and land while a ship is moving. Fulmar X can be used for a wide range of operational scenarios such as surveillance, reconnaissance, anti-piracy and security tasks.
In addition, DGAM has acquired another class I RPAS system to be deployed by the Spanish Army in operational zones. By using a new high performance, dual Electro-Optical / Infared payload, the system will detect targets, identify threats and provide necessary information to guarantee security.
The Fulmar X UAS weighs 20 kg, with a wingspan of just over 3 metres. It is capable of flying at a height of 3,000 metres, with a range of more than 8 hours and covering distances of as much as 80 km.
Find suppliers of Fixed Wing UAS >
The Fulmar X system has participated in Spain's RAPAZ programme, which seeks to evaluate unmanned aerial vehicles and promote collaborations with companies involved in the research and development of these systems. The Fulmar team has conducted operational evaluations in a wide variety of settings, with the Army, Navy and Marines.
The RAPAZ programme has included a variety of assessment trials for the systems in its different categories and environments, for analysing the different national and international RPAS Class-I alternatives for ISR (intelligence, surveillance and reconnaissance) tasks in support of the Armed Forces, and, in turn, helps the development of the national RPAS market.
José Sarnito (Chief Operating Officer, Thales Programas) stated: "This contract is a step towards making a unique European solution available in its range. The DGAM's support has proven to be crucial for the design of Spanish solutions and technology in the market of remotely piloted vehicles."