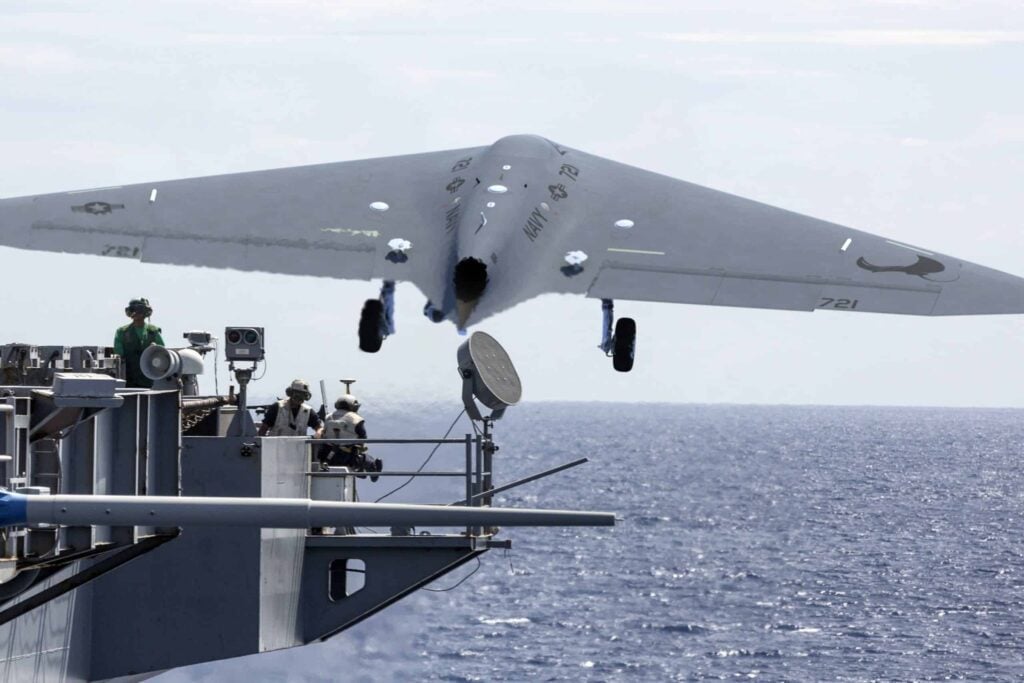 General Atomics Aeronautical Systems, Inc. (GA‑ASI) has announced that it has successfully flown its MQ-25A surrogate unmanned aerial system (UAS) – a Predator C Avenger – outfitted with a representative set of mission payloads, including Electro-optical/Infrared (EO/IR), Electronic Support Measures (ESM), Automatic Identification System (AIS), and Mission Processing. MQ-25 is the U.S. Navy's proposed unmanned aerial refueling aircraft program.
"Our ability to be agile has always been an important business driver for GA-ASI," said Linden Blue, CEO, GA-ASI. "This representative mission system design for the MQ-25 leverages our strength and experience in developing open-architecture systems, which offer a flexible growth path towards future payloads."
The GA-ASI team built upon its analysis performed under the Navy's Concept Refinement contract to develop a scalable mission architecture that supports Open Mission System (OMS) standards and the Navy Inter-operability Profile (NIOP) datalink.
During the flight, the MQ-25A surrogate's payloads were remotely commanded by GA-ASI's extensible payload command and control (C2) system. The team will leverage this software to enhance the Navy's Unmanned Carrier Aviation Mission Control System (UMCS). Between flights, GA-ASI quickly re-configured the UAS with different payloads to demonstrate the system's modular design and the benefits of an open architecture solution.