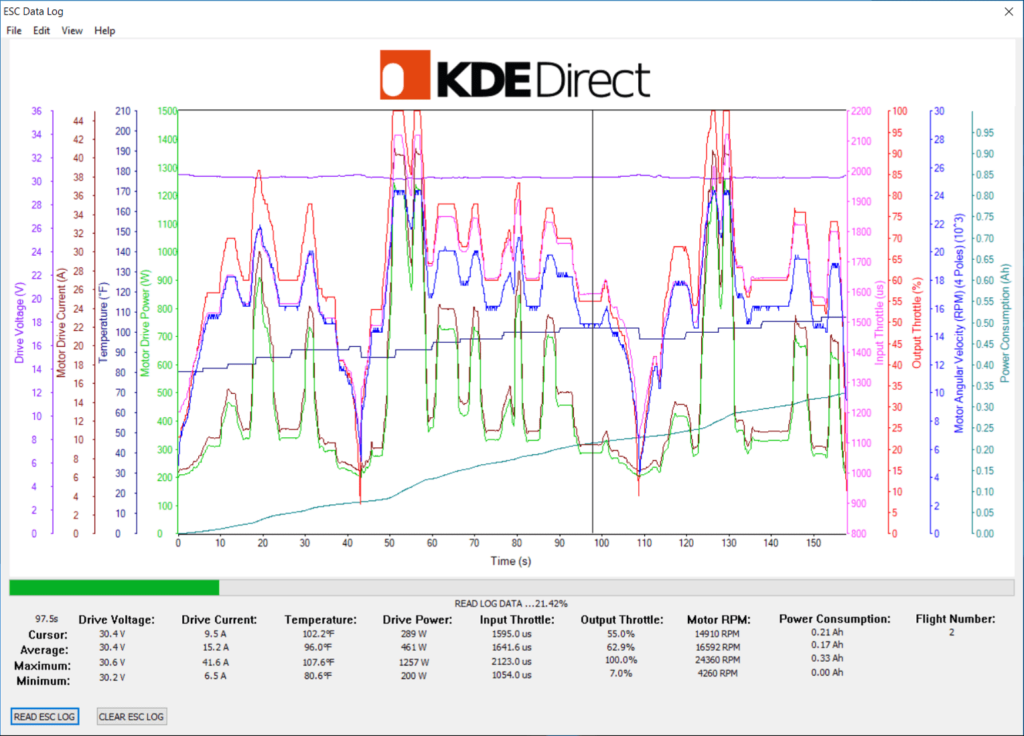 KDE Direct have announced new features for their UAS (unmanned aerial system) UVC electronic speed controller (ESC) series and KDE Device Manager V1.32 software, including data logging and graphing, stall protection, and motor control optimizations.
The new data graphing and logging features can be accessed by updating the UVC Series ESC to the latest firmware. During a flight, the UVC Series ESC records the following:
Drive Voltage
Drive Current
Temperature
Motor Drive Power
Input Throttle
Output Throttle
RPM
Power Consumption
The new KDE Device Manager is customizable and has a new assortment of graphing features to view the ESC data log. The latest update also features a variety of display options, changeable units, and printing.
The data log also offers a number of other intuitive features. A data log can be saved or loaded from previous flights. The data log speed can be be changed to allow the ESC to record more data. KDE have added the ability to record multiple flights and see all use time. This allows users to keep track of flights in a way that makes the most sense to accomplish their goals.
All KDE ESC's now have the option to turn on Stall Protection, an advanced algorithm that allows for the immediate shutdown of electronics during propeller impact or alternate unsafe event. This safety feature will protect the ESC from damage and prevent hazardous situations by detecting if a propeller is blocked.
A number of motor control optimizations have also been added to the KDE Device Manager. The motor control algorithm on KDE's ESCs have been optimized specifically to particular UAS Multi-Rotor Brushless Motors. This can be accomplished by selecting which motor is being used in the KDE Device Manager, and provides greater efficiency and overall improvements on the motor control.