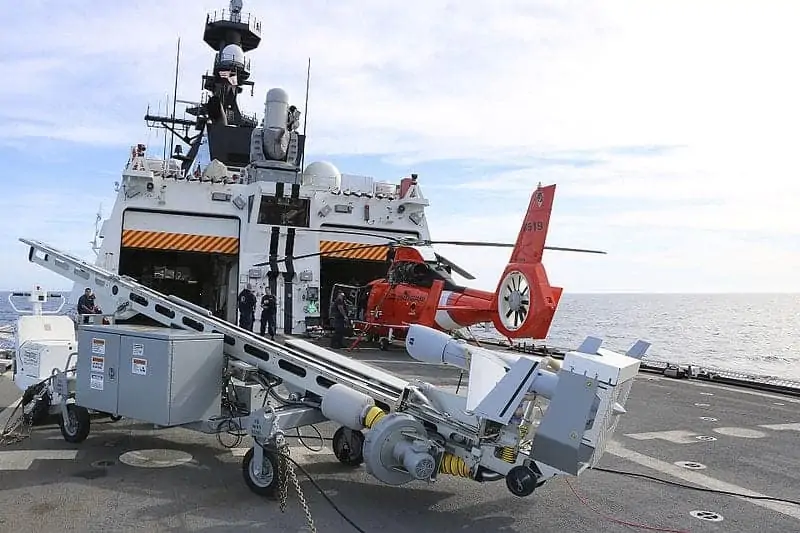 Insitu has announced that it has been awarded a contract to provide small Unmanned Aircraft Systems (sUAS) ISR services aboard the entire U.S. Coast Guard National Security Cutter fleet with its ScanEagle UAS.
The service contract is valued at approximately $117 million and covers the installation and deployment of sUAS for 200 hours per 30-day operational patrol period. ScanEagle will conduct surveillance, detection, classification and identification operations. It will also support prosecution by providing real-time imagery, data, target illumination, communications relay and other capabilities to the fleet and other government platforms as needed.
Insitu has previously won the contract to provide sUAS ISR services aboard one National Security Cutter, the USCGC STRATTON. By January 2018, ScanEagle had directly assisted the ship's crews in seizing more than $1.5 billion of cocaine and heroin, contributing to the USCG's record-breaking year for drug busts in 2017.
"When ScanEagle initially deployed with the STRATTON, we recognized what an incredible opportunity we had to partner with the U.S. Coast Guard to bring dynamic improvements to mission effectiveness and change aviation history," said Don Williamson, vice president and general manager, Insitu Defense.
The contract award also marks a major milestone for the acquisition process. "The sUAS has already proven itself to be a transformational technology, and the deployment of this capability to the entirety of the NSC fleet is an incredibly important first step in realizing the Coast Guard's vision of fleet-wide UAS implementation," said Cmdr. Daniel Broadhurst, who served as unmanned aircraft systems division chief in the Office of Aviation Forces. "The Coast Guard is excited to award the contract for the service's first class-wide sUAS to Insitu."
"The USCG will continue to push the limits of unmanned aviation," said Williamson. "We are proud to have earned the opportunity to continue to support the invaluable service the men and women of the U.S. Coast Guard provide to this country."
The U.S. Coast Guard began infrastructure installation in April 2018, with plans to begin installing hardware on Coast Guard Cutters James in fall 2018, Munro in late winter 2019 and Bertholf in late spring or early summer 2019.