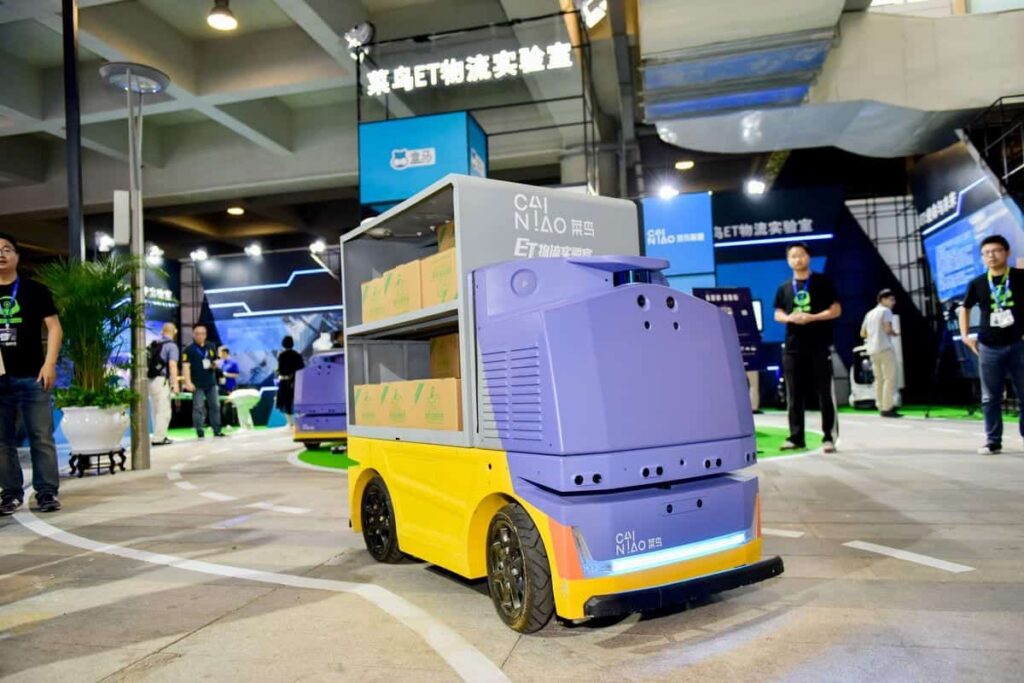 Alibaba Group's Cainiao Network and RoboSense have announced the release of the G Plus, the world's first solid-state LiDAR unmanned logistics vehicle. Announced at Alibaba's Cainiao Network 2018 Global Smart Logistics Summit, the G Plus driverless delivery vehicle incorporates solid-state LiDAR technology, RS-LiDAR-M1Pre, developed by RoboSense. This is the first time that solid-state LiDAR has been used in the development of an unmanned vehicle.
The vehicles can be mass-produced, allowing rapid expansion of unmanned logistics vehicles and streamlining mass market logistics. Unmanned cars and trucks can be equipped with smart devices to turn them into courier vehicles, mobile self-pickup stations, mobile coffee vending carts, and more.
Alibaba's Cainiao G Plus is equipped with three RS-LiDAR-M1Pres, two in front and one in rear, to ensure powerful 3D perception for driving. This allows vehicles to clearly see the direction of travel: shape, distance, azimuth, travel speed, and direction of travel of pedestrians, cars, trucks, etc., as well as exact areas to drive, ensuring smooth flow of unmanned logistics vehicles in complex road environments.
RS-LiDAR-M1Pre is the first MEMS solid-state LiDAR launched by RoboSense. Its micro mirror scanning scheme requires only a few laser emitters and receivers to scan the MEMS micro-mirror in both directions because of the swing angle. Resolution is a very fine, high and vertical angle resolution of 0.2° throughout angle of view. For traditional mechanical multi-beam LiDAR to achieve the same effect, they require more than a hundred laser transmitters and receivers to simultaneously rotate and scan, greatly increasing costs and reducing yield and reliability.