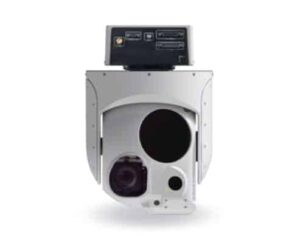 UTC Aerospace Systems (now Collins Aerospace) has announced the release of its new TASE400 LD optical and laser designation payload system for small to midsize UAS (unmanned aerial system) applications. The announcement was made at the Special Operations Forces Industry Conference (SOFIC).
At 7 inches in diameter and 10.6 pounds, with a laser designator that is fully compliant with NATO STANAG 3733, the TASE400 LD is one of the industry's lightest laser-compliant optical payload systems for UAS applications. As a result, UAS users in the U.S. Department of Defense (DoD) Group 2 (21-55 lbs.) unmanned segment will now be able to benefit from a laser designator capability for the first time, while users on the lower end of Group 3 (less than 1,320 lbs.) will also be able to utilize the system.
The TASE400 LD is the latest addition to the company's TASE family of systems that are operationally proven, having flown hundreds of thousands of hours in harsh unmanned military environments, including missions for U.S. Special Operations Forces.
"In the past, if troops in the field needed laser designator capability, they would typically have to call in additional assets to meet the need," said Matt Lendway, site lead for UTC Aerospace Systems' TASE imaging and Piccolo autopilot business. "Now, thanks to the lighter TASE400 LD, they can carry that capability with them, enhancing their own efficiency while freeing up assets to focus on other missions."
TASE400 LD provides operators with day/night, visible/mid-wave infrared (MWIR) imaging capabilities for improved situational awareness and an optimized lens design for enhanced object recognition. Integrated into this system is on-board video processing with image stabilization, overlays, picture in picture (PIP) and enhancement capability. An on-board GPS/INS with integrated geo-pointing and ViewPoint tactical PED (processing, exploitation and dissemination) provides operators the ability to multitask, record and disseminate critical data for use at their fingertips. The system's laser designator is compatible with all NATO guided munitions and semi-active laser seekers.