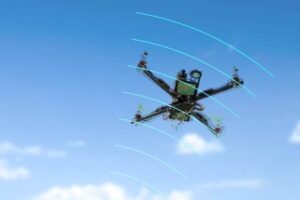 Dedrone has announced that it has entered into a partnership with the University of North Dakota (UND) unmanned aerial systems (UAS) education program to install Dedrone's UAS detection technology. The partnership aims to improve safety and security for UND's current UAS flights, and expand opportunities for research and training in the university's Counter UAS and data driven curriculum.
"Safe and reliable airspace includes security systems to help detect and track non-cooperative aircraft," said Paul Snyder, Assistant Chair and Director of UND's UAS Program. "At UND, unmanned aircraft are a daily part of our flight operations and curriculum, and it is a natural step to bring Dedrone into our curriculum as we continue to lead the effort to safely integrate UAS into the national airspace system."
UND will install Dedrone's radio frequency sensors, the RF-100 and RF-300, into a mobile counter-UAS (cUAS) truck to detect and track aircraft within designed areas where UAS flights are being conducted. The sensors will detect and track information including the flightpath and location of the pilot. Data collected will be incorporated into the curriculum of over 200 of UND's UAS-related majors and minors and be used a foundation for related research. "Students will have first-hand access to Dedrone technology to understand the intersection of airspace security and technology, and the importance of risk mitigation for UAS operations," said Chief UAS Pilot Amanda Brandt.
"Dedrone is proud to be aligned with UND's accomplished aviation and UAS program," commented Joerg Lamprecht, CEO and co-founder of Dedrone. "UND understands the risks drones pose to their operations and are providing our future airspace leaders a hands-on experience to learn about drone detection and cUAS systems."