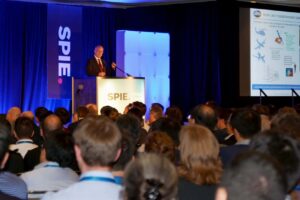 The latest sensing and imaging advancements for food security and safety, unmanned autonomous systems, hyperspectral imaging and the "Internet of Things" (IoT) will be showcased and discussed at SPIE Defense and Commercial Sensing (DCS) this year, running from 15 to 19 April at Orlando's Gaylord Palms Resort & Convention Center.
With 5,000 attendees, 2,000 technical presentations, 50 conferences, 32 courses and 400 companies at the DCS Expo, this year's event will provide valuable industry insights and vibrant networking opportunities for everyone from engineers and CEOs to project managers and researchers.
The plenary session on Monday, 16 April, will feature SPIE Fellow Morley O. Stone, chief technology officer at the US Air Force Research Lab; SPIE Fellow Ray O. Johnson, executive in residence at Bessemer Venture Partners, and former senior vice president and chief technology officer at Lockheed Martin; and Henry A. (Trey) Obering III, executive vice president at Booz Allen Hamilton.
Throughout the week, a busy – and buzzy – industry program and exhibition will feature a two-day Job Fair as well as a variety of presentations and panels on topics such as Spectral Imaging in Precision Agricultural Management: Potential for Crop Health Monitoring and Pathogen Detection; Emerging Applications for LiDAR; Commercialization of Quantum Technologies; Mid-Infrared Comes of Age: Technologies and Applications; as well as a session with DARPA's Deputy Director of the Microsystems Technology Office Dr. Jay Lewis. Showcasing the latest in sensing, imaging, and optical technologies, the exhibition runs from Tuesday, 17 April through Thursday, 19 April. Attendance to the exhibition is free and will feature 400 companies displaying innovative products from across the spectrum of applications.
"SPIE Defense & Commercial Sensing is the premier venue for viewing technology development in the defense and security community, and the transition of this work to commercial applications," says SPIE Director of Science and Technology Bob Hainsey. "Whether it's hyperspectral imaging, infrared sensing, lidar, or quantum technology, the conference rooms and exhibition halls of DCS are full of innovative technologies crucial to the defense and security sector as well as those with commercial applications. Program tracks in agriculture, unmanned autonomous systems, and internet of things are all great examples of how the photonics industry is impacting our daily lives, and SPIE DCS is a great place to meet the companies and researchers driving that impact."
This year's range of conferences include Thermosense: Thermal Infrared Application, now in its fortieth year; Infrared Technology and Applications; Infrared Imaging Systems: Design, Analysis, Modeling, and Testing; Radar Sensor Technology; Algorithms and Technologies for Multispectral, Hyperspectral, and Ultraspectral Imagery; Laser Radar Technology and Applications; and Micro- and Nanotechnology Sensors, Systems, and Applications.
Application areas and technologies that will be covered through multiple topical tracks include:
Unmanned autonomous systems for air, ground, and sea, utilizing technologies such as LiDAR; IR, multispectral, and hyperspectral imaging; and related imagery and data-analysis systems
Cyber physical systems and the IoT, highlighting innovations in areas such as sensor fusion, big data, deep learning, and cyber-security
Agricultural and food safety/quality applications of photonics, using unmanned aerial vehicles, hyperspectral imaging, phenotyping, and IR thermography.
A popular venue for SPIE courses, DCS will offer, among others, Introduction to LIDAR for Autonomous Vehicles taught by Joseph Shaw, which was sold out at SPIE's San Francisco-based conference Photonics West in January. Also on the professional development schedule are previously popular DCS courses taught by Gerald Holst, Testing and Evaluation of E-O Imaging Systems and Electro-Optical Imaging System Performance, and Nassar Nasrabadi's Deep Learning Architectures for Defense and Security. Also on the docket this year is Kevin Harding's Basic Optics for Non-Optics Personnel, a useful fundamental course, popular with people new to the field.
New this year: a two-hour, high-level, non-technical course, Infrared Imaging Technology Basics taught by FLIR's Austin Richards and aimed at executives, personnel in sales, and business development staff. Dr. Richards will also be teaching NIR and SWIR Imaging Applications, which helps engineers increase their skills.
The DCS exhibition includes the largest gathering of infrared camera providers and laser vendors, as well as hundreds of core optics and photonics suppliers offering high-end lenses, coatings, and positioning systems.
"SPIE Defense and Commercial Sensing has been a cornerstone event for this community more than 20 years," says SPIE Senior Director of Global Business Development Andrew Brown. "We're particularly excited to be returning to Orlando, Florida, home to a thriving photonics industry. This year, 400 companies will be participating at the DCS Expo, where they will be launching products and showcasing their newest innovations, as well as recruiting new talent at the job fair.  The industry program, which is free to attend, will cover a wide range of highly relevant topics."
Finally, SPIE will showcase its Rising Researchers program during week, recognizing early career professionals who are conducting outstanding work in product development or research in the defense, commercial, and scientific sensing, imaging, optics, or related fields, offering them professional development, recognition, and networking opportunities.
The ten 2018 Rising Researchers and the papers they'll present are:
SPIE Member Amit Agrawal, project leader in the Nanoscale Imaging and Spectroscopy Group at the Center for Nanoscale Science and Technology of the National Institute of Standards and Technology; "Nanoscale Imaging and Sensing using Hyperbolic Metamaterials"
Michael Buric, a research scientist at the National Energy Technology Laboratory in Morgantown, West Virginia in the Lab's Research and Innovation Center on the Functional Materials Development Team; "Single-crystal fiber structures for harsh environment applications"
Dr. Pai-Yen Chen, an Assistant Professor in the Department of Electrical and Computer Engineering at the Wayne State University; "Hyperbolic Metamaterial-Based Plasmoelectronic Nanodevices for Infrared Detection and Energy Harvesting"
SPIE Member Dr. Amber L. Dagel, an optical scientist at Sandia National Laboratories; "Defect detection in foams and encapsulants using grating-based x-ray phase contrast imaging"
SPIE Member Shuowen "Sean" Hu, an electronics engineer in the Image Processing Branch at the U.S. Army Research Laboratory; "An Overview of Polarimetric Thermal Imaging for Biometrics"
SPIE Member Prof. Cheng-Wei Qiu, an associate professor at the National University of Singapore; "Structured surfaces: Imaging, security print, and beyond"
Matthew Reichert, a postdoctoral research associate in the Department of Electrical Engineering at Princeton University; "HD Quantum Optics"
Captain Russell Shirey, technical and program lead for the Air Force Research Laboratory's Blue Guardian Combat Intelligence, Surveillance, and Reconnaissance (ISR) program; "Blue Guardian Open Adaptable Architecture for C4ISR"
SPIE Senior Member Mark F. Spencer, a research physicist at the Air Force Research Laboratory, Directed Energy Directorate; "Signal-to-noise models for digital-holographic detection"
SPIE Member Alina Zare, researcher and teacher in the area of pattern recognition and machine learning in the Electrical and Computer Engineering Department at the University of Florida; "Sample spacing variations on the feature performance for subsurface object detection using handheld ground penetrating radar"
The week-long event, with its focus on a rich range of topics from quantum and LiDAR, to IR and food safety, promises to be a must-attend calendar item for anyone working at the forefront of technology in the defense, imaging, and sensing sectors.