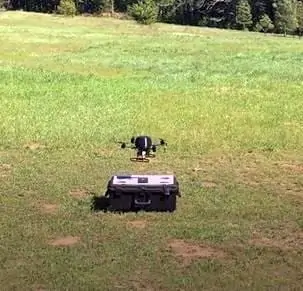 SightLine Applications, a developer of onboard video processing for advanced camera systems, has announced that its landing assist functionality has been successfully interfaced with MicroPilot's line of UAS (unmanned aerial system) autopilots. Starting with version 3.7.1016 of MicroPilot's HORIZONmp software, this new functionality will provide integrators with the option of a robust landing assist feature, reducing operator workload and training requirements.
SightLine Applications' Landing Aid is a video-based landing assist that enables safe operations, even in GPS degraded (urban canyon, indoors, etc.) or GPS denied environments. It operates by using a down-facing camera mounted on the UAV to track on a specified "landing pattern" and provide accurate relative-position data to the autopilot, enabling the UAV to land much more precisely than is possible with conventional GPS. The 8gm video processor enables low SWAP landing assist implementations.
As autonomous precision landings become more important, with UAVs being used for an ever greater variety of civil and commercial applications, the accuracy of SightLine's Landing Aid, the reduced operator workload, and its landing area safety checks, will become very valuable.
MicroPilot has previously demonstrated compatibility with SightLine video processors, which are integrated into a wide range of ISR gimbaled camera systems. Integrating SightLine Applications' landing assist functionality with the autopilot was a logical next step, providing a convenient package encompassing both a professional grade UAV autopilot and video landing assist for the UAV market.