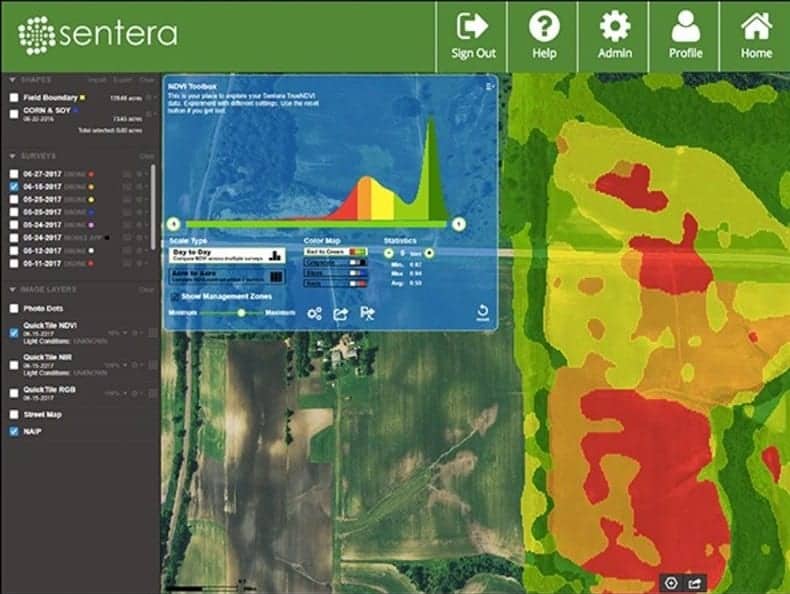 Sentera has announced the launch of its new FieldAgent platform, which replaces all variants of the AgVault and OnTop products. The new software platform for drone-based precision agriculture better reflects the company's incorporation of a much broader range of analysis and integration tools, along with the data management functions.
"Our software products started out as a better way to store, organize, and visualize imagery and other kinds of data. Over time, we've deployed computer vision, machine learning, and other data exploitation products that help crop consultants, advisors, and growers make decisions. The FieldAgent name is a better representation of the full breadth of data analysis, management, and platform connectivity features that we offer today. We chose the name because it describes what we do – we act on behalf of our customers to gather data from the field and make it useful," said Eric Taipale, Sentera CEO.
The FieldAgent platform includes mobile, cloud, web, and desktop components. A hybrid on-field and cloud processing model efficiently manages real-time data production for users in real-world conditions. FieldAgent seamlessly synchronizes data, analytics, and prescriptive actions to connected partners and agriculture analysis tools, including the John Deere Operations Center, Climate FieldView, SMS, SST, and other leading platforms.
FieldAgent capabilities include:
Unlimited QuickTile and orthomosaic map generation
Analytics products that support essential agronomic workflows
Zone map creation
Elevation map creation
API integrations with leading platforms
Broad, standards-compliant data format compatibility
Prescription generation with direct and API-based export to machinery
Drone-based data acquisition and flight control
"During the 2018 growing season, our FieldAgent Platform will feature some of the most sought-after precision ag analytics products, including nitrogen deficiency detection, weed localization, zone management, and an enhanced mobile app," remarked Reid Plumbo, director of product management for Sentera. "FieldAgent brings our offers for R&D, enterprise, and production agriculture into a single product family."
Kris Poulson, vice president of agriculture for Sentera added, "Every ag professional has competing demands for their time and resources. By working with our customers and understanding friction points, we have been able to deliver a powerful and unified in-field toolset to the ag industry."