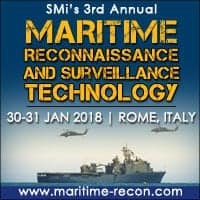 Nations from across the globe are set to attend SMi's well renowned Maritime Reconnaissance and Surveillance Technology conference, taking place in Rome, Italy next week (30–31st January 2018). This year's conference promises to be the biggest yet, featuring a focused discussion of emerging technologies, informative presentations and networking opportunities. With the aim of delivering clear and accurate maritime situational awareness, the conference will provide an unrivalled insight into the activity and priorities of military fleets, maritime authorities and industry experts that are at the forefront of innovation in the marine domain.
The two-day programme will cover the core areas of maritime reconnaissance and surveillance in details, exploring the new and emerging ISR technologies and platforms, space-based surveillance systems, unmanned maritime systems and much more.
The conference this year has attracted a host of nations from across the globe including the UK, US, Italy, Belgium, Denmark, Canada, Germany, Norway, France, United Arab Emirates.
The event in one weeks' time will facilitate 6 hours of dedicated networking, 18 expert speakers who will present on the latest key Maritime Reconnaissance and Surveillance technologies and strategies, a focused panel discussion with Q&A's during the conference with over 100 other attendees, and finally those attending will meet the latest solution providers in SMi's exhibition zone.
Alongside the two-day event there will be a pre-conference workshop held on 29th January 2018. The workshop will be hosted, once again, with space technology leader C-SIGMA to deliver an exclusive session. Guy Thomas, Director of C-SIGMA will be hosting the workshop on "Improving International Collaboration in Space to Enhance Maritime Situational Awareness".
SMi are offering an exclusive last chance discount to Unmanned Systems Technology subscribers of £100* – enter SMI65C7 at checkout: http://www.maritime-recon.com/ustpr
Airbus, Airborne Technologies, Dornier Seawings and Ampex Data Systems will be sponsoring this event.
*This offer is available to new registrations only. Subject to availability and final approval by SMi.