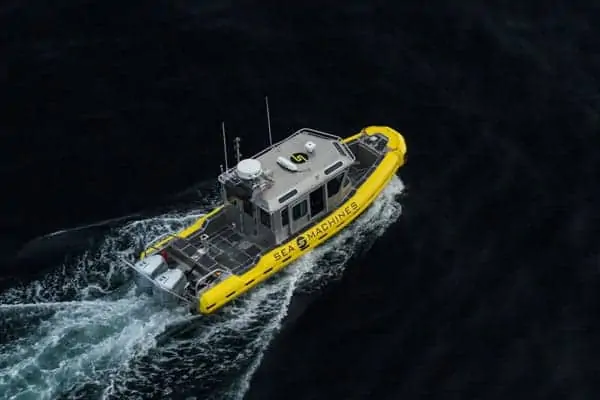 Sea Machines Robotics has announced a collaboration with Tuco Marine of Denmark to offer remote and autonomous control products as factory options in Tuco's line of ProZero workboats. The Tuco Marine Group manufactures a range of modern efficient workboats at its Faaborg, Denmark location and specializes in the production of carbon fiber hulls.
Tuco Marine and Sea Machines have already successfully demonstrated the remote command capability of the Sea Machines 300 technology at Danish Maritime Authority's "Zooming into Marine Autonomy Conference" where they gave live remote command of the water craft to Danish Minister of Industry Brian Mikkelsen.
Tuco CEO Jonas Pederson said: "Sea Machines provides technology that enables new methods of optimized operation of our workboats. We see immediate market opportunities for remote & autonomous operation in offshore surveying, security, dredging and more. In the spirit of innovation on which we founded TUCO, our collaboration with a cutting-edge technology leader like Sea Machines positions our company for the future state of the industry."
"A production boat builder offering Sea Machines products is a major step in making remote command and autonomous vessel technology available to commercial operators," said Sea Machines' CEO, Michael Johnson. "We are taking the mystery out of marine autonomy by putting the technology forward as a tangible product that is ready to use, and we are pleased to partner with a visionary company like TUCO in our first OEM partnership".
The Sea Machines 300 is an industrial-grade autonomous command & dynamic vessel management system that readily interfaces with primary and auxiliary vessel systems. The system uses common modern navigation instruments for positioning and perception, including DGPS, AIS, Radar, and camera-based vision. All autonomy system components are mounted in a standardized stainless steel, IP67 electrical enclosure. Rack-mounted configurations are also available.
Find suppliers of USVs and Autonomous Conversion Solutions >
The system is supplied with a graphical user interface, branded TALOS, which enables real time local and remote vessel telemetry and data feed as well as navigation route planning, and also comes with a remote control industrial joystick. In autonomy mode, the user can plan and execute tasks such as waypoint tracking, search or survey grids, or collaborative tracking of another vessel. The Sea Machines 300 includes a first generation of obstacle and collision avoidance algorithms which abides by the International Maritime Organization's (IMO) COLREGs and Rules of the Road for vessel interactions.
The Sea Machines 300 provides a new realm of vessel operations, like allowing on-board crew to step away from the aspect of manual vessel control and give focus to other complex operations such as back-deck equipment & payload tasks. The system also unlocks the ability to operate a vessel in minimally-manned or unmanned configurations. An operator using Sea Machines technology can control a boat from a remote location with the visibility of vessel-borne video and radar feed and gives the ability to remotely control onboard payloads such as survey sonars, winches, cranes, and davits. The Sea Machines 300 provides an immediate upgrade to traditional workboat tasks such as bathymetric surveying, seismic support, spill operations, dredging, aquaculture, surveillance, area marking, and escort.