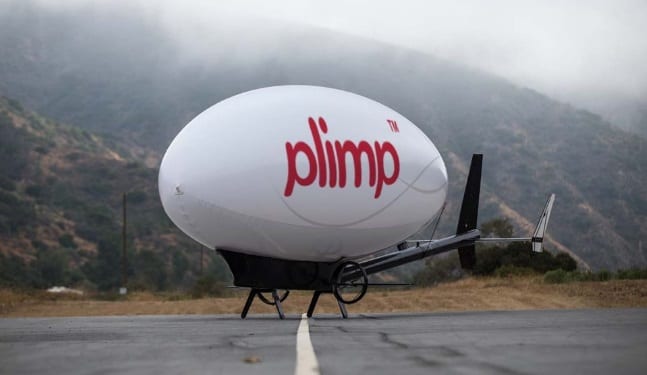 Egan Airships has announced PLIMP, a plummet-proof, plane-blimp hybrid UAS (unmanned aircraft system) that can maneuver and move quickly like fixed-wing aircraft, hover and vertically take off and land (VTOL) like a helicopter, and operate efficiently and safely like a blimp. The PLIMP aircraft is capable of forward speeds of more than 40 mph, with at least an hour of flight time.
The PLIMP aircraft features a patented streamlined envelope design, rotational wings, and an extended tail to corral the wake; and is powered on the wings and the tail. It offers an unpowered descent speed of 9.5mph should engines fail, and smooth flight and acceleration for nearly stable platform filming.
The PLIMP aircraft also takes advantage of partial lift by helium (which is not flammable) and partial lift by its rotational wings. Egan Airships claims that due to its buoyancy, the PLIMP aircraft is more efficient than helicopters and fixed-wing aircraft for surveillance and inspection operations.
With a length of 28 feet and a weight of under 55 lbs., PLIMP aircraft are highly visible for miles such that line-of-sight rules can be adhered to for much greater distances than conventional drones, and can easily integrate into the general aviation airspace. The size also supports collision avoidance. PLIMP aircraft can be operated remotely by a pilot and flight technician, and do not require a runway or launch/recovery system to operate. The aircraft can carry any payload required for a specific mission, such as EO/IR cameras, multispectral camera systems, communication relays, and sensors for agriculture, pipeline, and power transmission line inspection.
PLIMP aircraft are targeted at a variety of applications where safety of the drone and people on ground or in the sky is a primary and foundational operating parameter. These include:
Advertising
Agriculture
Surveying/Mapping
Border Patrol
Mining Operations
Cinema and Commercial Filming
Search and Rescue
Cloud Seeding
Search and Rescue Operational Support
Communications Relay Support for remote areas or disaster areas
Power Transmission Line Inspection
Railway Line Inspection and Pipeline Inspection
Pollution Monitoring and Inspection
Fishing, Wildlife, and Forest Service Support/ Surveillance
Forest Fire Fighting Prevention, Early Detection and Operational Support
Mining Support
Military and DoD Surveillance and Operational Support
"Technology advancements in carbon fiber composites, ultra-thin bladder materials and battery technologies have allowed PLIMP aircraft to meet drone performance objectives today," commented Egan Air co-founder James Egan.
PLIMP will be regulated by the FAA under the Small Aircraft Regulations (Part 17). Exemptions for FAA approval to operate over people and at night are also in process.