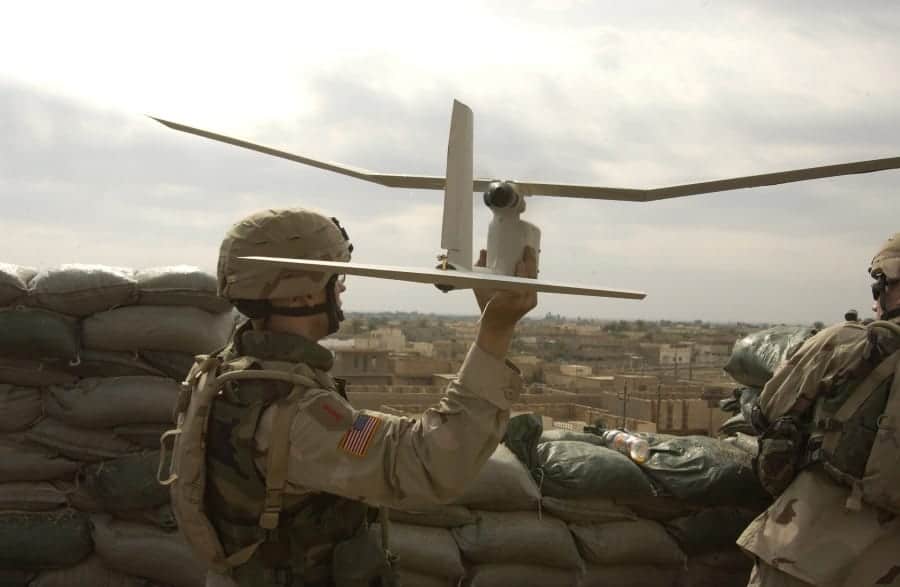 AeroVironment has announced that it has integrated M1/M2/M5 radio frequencies into its Raven and Puma AE unmanned aircraft systems (UAS) and provided the upgraded systems to two DoD customers. In addition, the company will shortly begin taking orders for M1/M2/M5-configured Wasp AE micro air vehicles (MAV).
"Integrating the new M1/M2/M5 radio frequencies into our family of small UAS gives our customers the ability to seamlessly and securely conform to the Department of Defense's new frequency spectrum allocation and proceed with certainty," said David Sharpin, vice president of AeroVironment's Tactical UAS Business Unit. "By combining all three frequency bands in the same transceiver module, we've made it easy for users to select the frequency band associated with the part of the world in which they are operating without having to swap any hardware."
AeroVironment has also unveiled its new Pocket DDL AE, a rugged, all- environment, next generation, secure digital video and data receiver that also integrates the new M1/M2/M5 radio frequency spectrum. The all-environment design of AeroVironment's new Pocket DDL AE makes it significantly more rugged than its predecessor by offering a fully waterproof package (immersible to three feet) that supports tactical operations in a wide range of environmental conditions and difficult urban terrain.
Designed for simplicity and ease of use, the Pocket DDL AE facilitates rapid and secure access to a small UAS Digital Data Link (DDL) network. The unit has no exterior buttons or displays and is completely controlled through an App. Pocket DDL AE has a standard Glenair Mighty-Mouse connector, making it compatible with the Army's Net Warrior system, so dedicated cables for Pocket DDL are not necessary. It can operate from any power supply, providing between 5 and 32 volts DC.
Pocket DDL AE implements an open-systems architecture, using a USB interface and XML messaging for control of the radio functions. This enables apps designed for special purposes, such as tactical operations, search and rescue, asset tracking, long- range communications, mission command, and targeting to use Pocket DDL AE to employ small UAS to help perform their tasks more effectively.
"Combined with the M1/M2/M5 upgrade to our Pocket DDL AE, this provides greatly enhanced capability across our entire family of small UAS product line for improved tactical operations," Sharpin said. "This example demonstrates our ongoing commitment to upgrade our Family of Systems products and provide new capabilities to our existing and new customers around the world."