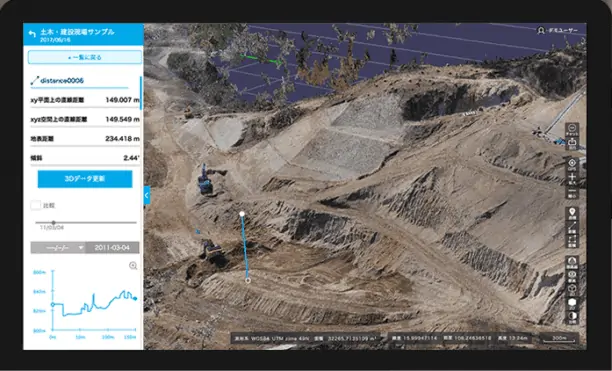 Terra Drone has launched its new Terra Mapper image processing software, designed to assist drone surveying services. Terra Mapper is an automated drone navigation, image processing, and 3D image analysis program that enables users to accurately inspect the 2D & 3D data images produced by their nominated drone service. It can be utilized on its own, rather than requiring the use of multiple different supplementary software.
In recent years, drone aerial photography has become embedded into the workflow for increased productivity in the civil engineering industry. In Japan, the Ministry of Industrial Relations has been promoting "i-Construction", and a result, all large-scale surveying projects from 2020 will adopt the use of drone technology.
Terra Mapper is available in both cloud and desktop versions. The cloud version gives users the ability to perform advanced data analysis with a single web application for surveying work drones in real time. All data is stored in the cloud, allowing the accessibility of storing and sharing large amounts of data with multiple people.
Terra Mapper Cloud offers construction management tools to monitor the numerical change in components such as soil volumes and elevation levels at the site. The data is also readily available for use as reference materials on and off the site. In addition to information sharing and chat functions, users can also delegate tasks, allocate the placement of equipment and monitor the progress of the site.
The desktop edition of Terra Mapper has the ability to universally process, analyse and share all types of data from flight to ground. More accurate topographical data can be measured by displaying and automatically eliminating the unnecessary components on site including construction equipment and foliage in the field, allowing an accurate detection of soil to be removed and the amount of soil, as well as the ability to compare calculations of soil volumes to simplify the calculation of embankments and cuttings. The software can also create cross sectional diagrams simply while evenly spacing with the center line of the figure.
Potential applications of Terra Mapper include surveying, mining, precision agriculture, real estate, and infrastructure inspection.
Find suppliers of Mapping Software for UAS >