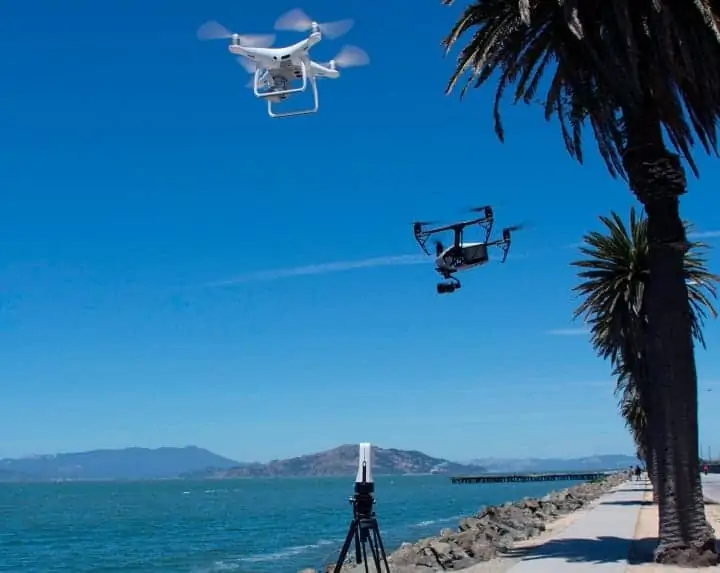 Sling Media has announced that its SlingStudio wireless and portable multi-camera video production and live broadcasting system is compatible with drone systems manufactured by DJI. Compatibility includes the Phantom, Inspire and Matrice series drones.
The remote controller of compatible DJI drones plugs into SlingStudio's HDMI input port, or connects to SlingStudio wirelessly via the CameraLink wireless adapter. The drone streams live footage to its controller base, which then routes the video to the SlingStudio hub via the HDMI or CameraLink connection. This allows the drone to send high-quality video to SlingStudio from anywhere within the drone's recommended range.
"SlingStudio simplifies production for videographers looking to film with multiple drones, or drones in combination with ground cameras," said Vivek Khemka, DISH chief technology officer. "Its wireless, drone friendly setup allows drone pilots to capture footage without being limited by cords or cumbersome film equipment."
SlingStudio is capable of recording, monitoring and editing four HD video inputs from up to 10 aerial drone systems, ground cameras and smartphones. It can output live video to streaming services like Facebook Live and YouTube, while simultaneously recording to a USB hard drive, USB SSD or SD card for post-production.
"With SlingStudio, creative professionals now have the freedom and flexibility to tell a story from multiple points of view in real time," said Ryan Tong, Director of Marketing at DJI. "We're excited to see how crews flying DJI drones will incorporate this technology to bring a new element of storytelling to their live video projects."
SlingStudio's CameraLink wireless adapter plugs into the HDMI port available on most DSLRs, video cameras and drone controller bases. It wirelessly transmits up to 1080p60 video to the SlingStudio hub from up to 300 feet away. Its internal battery provides up to two hours of power. A USB-C Expander supports wired Gigabit Ethernet connectivity for live broadcasting, and connects to USB 3.0 hard drives or SSDs for recording content.
Users can capture video from different angles by wirelessly connecting up to 10 video sources (DSLR cameras, video cameras, drone systems, smartphones, personal computers, etc.) to a single SlingStudio using its private, video-grade Wi-Fi network; Internet connectivity is not required. Elimination of cables reduces setup time, and allows for ground cameras and drone controller bases to be placed anywhere (within 300 feet of the SlingStudio hub) and easily moved.
HDMI-enabled DSLRs, video cameras and drone controller bases connect via CameraLink or to SlingStudio's HDMI input port. Smartphones using iOS and Android operating systems directly connect to SlingStudio wirelessly using the Capture app available from the Apple App Store and Google Play Store, without the need for a CameraLink.
The iPad Console app for video production allows directors to monitor and create live-to-tape video from up to four (out of a maximum of 10 connected) input sources simultaneously, and drag and drop video into a composition window. Directors can create dynamic video compositions like picture-in-picture, split and quad views; edit in popular transitions like cut, dissolve and wipe; add text overlays and lower thirds; and mix audio. All of this can be done in real time as live video is streamed to platforms like Facebook Live or YouTube, and simultaneously recorded to a USB hard drive, USB SSD or SD card for post-production. External audio sources, audio mixers and output monitors can also connect to SlingStudio for advanced production needs.
Individual recordings from each camera feed, plus the live-switched video and audio line-in, are saved in a single storage location, eliminating the need to wrangle and import multiple storage drives from each camera. The entire project file can then be easily imported into editing applications like Adobe Premiere Pro CC and Apple Final Cut Pro X.