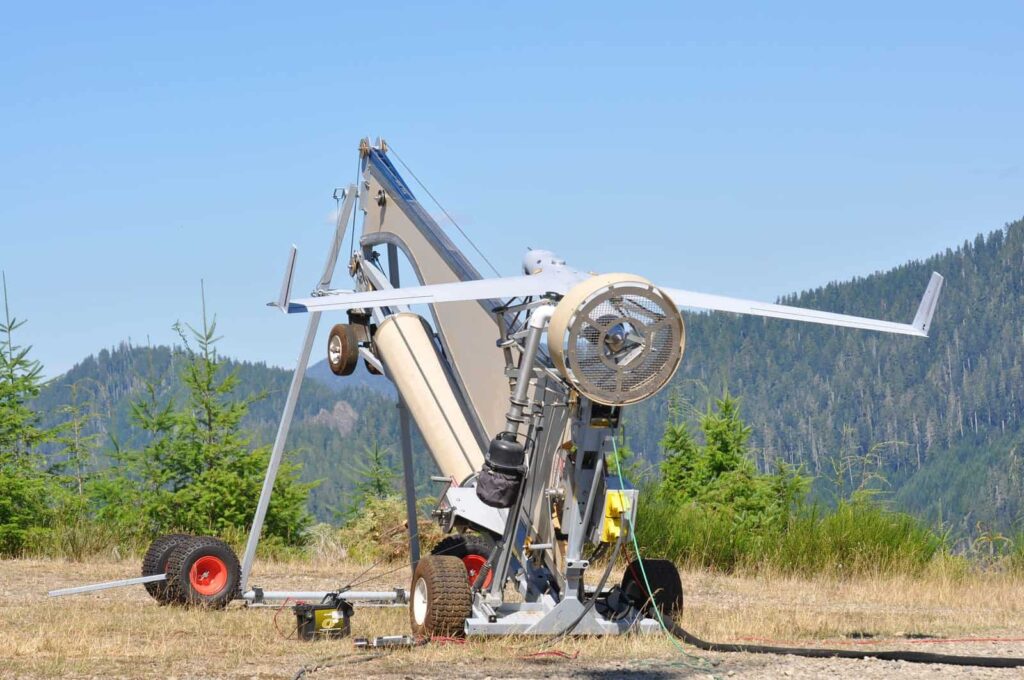 Insitu has announced that it has formed a partnership with natural resource management technology company FireWhat, and spatial analytics specialist Esri. Through this partnership, aerial reconnaissance for fighting wildfires will be provided by Insitu's INEXA Solutions, comprised of INEXA Control, Insitu air vehicles including the ScanEagle, and payloads including the new High Accuracy Photogrammetry (HAP) payload. The INEXA Solutions professional aerial remote sensing services group will work with FireWhat's fire professionals, using its geographic information system (GIS) customized for firefighters, and hosted on Esri's ArcGIS platform.
Currently, fire incident commanders must work with fire line information that often is 12-to-24 hours old — while a fire continues to burn. Now, Insitu's ScanEagle UAS can "fly the gaps" — both day and night — using its military-grade electro-optical (EO) cameras during daylight, and infrared (IR) cameras for nighttime imaging. Flying at these times will provide previously unavailable data collection, analysis, and delivery of decision-making information to manned firefighting fleets operating in difficult terrain, smoke, or temperature inversion situations. The comprehensive spatial analytic capabilities of ArcGIS leverage FireWhat's unique ability to effectively fight wildfires using technology in an entirely new way.
Integrating Insitu's proven aerial remote sensor imagery with FireWhat's GIS will provide near-real time live, web-based video feed of thermal images to FireWhat's ground-based mobile command centers. The Infrared/thermal camera technology penetrates smoke or darkness, gathering and disseminating georeferenced still images of points of interest, and allows FireWhat's data to quickly create geo-referenced high-resolution mosaics in PDF, and digital fire progression/suppression maps. Combining these new technologies will dramatically increase strategic and tactical awareness and decision-making for firefighters and first responders.
Insitu, FireWhat, and Esri's efforts are supported by HP, Inc., (HP) hardware, including servers, laptops, and printers. This collective partnership represents expert knowledge and resources that now are combined to deliver a system surpassing any fire emergency and disaster tracking solution currently available in North America.
According to Sam Lanier, FireWhat Chief Executive Officer, "FireWhat, HP, and Esri previously have enjoyed a strategic business relationship, and partnering with Insitu will allow all of us to continue developing advanced technologies that can be deployed globally to effectively and intelligently fight wildfires."
"This is a revolutionary breakthrough in firefighting, as the typical 12-to-24 hours of critical information lag time during darkness or in smokey conditions is eliminated," said Jon Damush, Vice President and General Manager, Insitu Commercial. "Combining INEXA Solutions' integrated imagery with FireWhat's solution that incorporates Esri's ArcGIS creates a 'best of breed' solution that will enable firefighters to quickly determine the best possible actions to take through GIS mapping."
"We are pleased to be working with these great organizations on efforts that are so important for saving lives and protecting resources," said S.J. Camarata, Director, Esri Worldwide Global Business Development and Strategies. "Employing UAVs to provide real-time data to track, plan and predict how dangerous events like wildfires evolve is important to the future of emergency response."