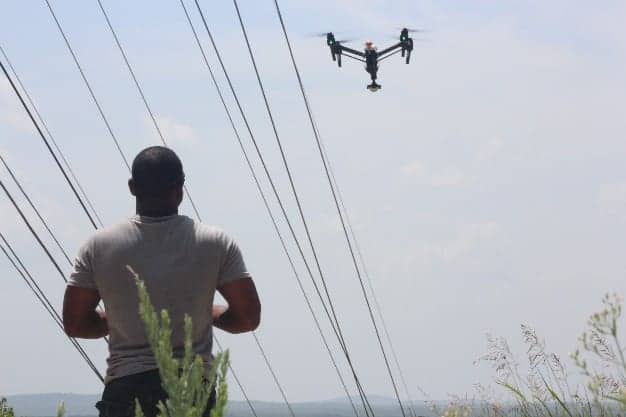 Avion Unmanned, a provider of commercial unmanned aircraft systems (UAS) training solutions, has provided formal training to Huntsville Utilities to allow them to employ UAS in their daily operations.
UAS instructors from Avion Unmanned delivered training and advice on the proper, legal, and safe use of aerial drones, covering topics including aerodynamics, airspace, aviation weather, emergency operations, privacy, flight basics, and safety.
Huntsville Utilities recently obtained a Certificate of Authorization (COA) from the FAA which can take agencies months to acquire. With Avion's support, it took just a few weeks to gain access to the FAAs submission portal, and only four days to complete the approval process.
Avion Unmanned also helped Huntsville Utilities develop a Standard Operating Procedure (SOP) to be used as a guide for managing operations as the program grows. Their intended area of operation is the Class G Airspace within 100 nautical miles of Huntsville, Alabama. Therein, Huntsville Utilities will observe and follow the operating rules of the FAA and their specific COA. Flight in controlled airspace within this region will be performed and coordinated with ATC using the airspace authorization system put in place by the FAA.
Huntsville Utilities anticipate that the implementation of UAS inspections will reduce the level of risk and costs associated with the inspection of power poles, line connections, and associated equipment that is typically inspected using bucket trucks, or by the physical means of climbing a pole.
Avion has a proven track record working with the utility industry to ensure safe and effective operations.  In February of this year, the Department of Energy (DOE) released, "An Early Survey of Best Practices for the Use of Unmanned Aerial Systems by the Electric Utility Industry" through Oak Ridge National Laboratory (ORNL).  Avion worked closely with ORNL to develop this technical manual and hopes that it will also serve as an industry reference for safe practices while operating in the National Airspace (NAS).
Avion Unmanned partnered with Huntsville Utilities to submit a proposal to the American Public Power Association (APPA) for a Demonstration of Energy and Efficiency Developments (DEED) grant to research the feasibility of unmanned aircraft systems' use in the Public Utility Industry.  The purpose of the DEED grant work is to provide APPA members with a resource for best practices for the use of unmanned aircraft.  This resource will include things like how to determine if your utility can support a UAS program, or if it is more feasible to contract drone operations. It will also discuss topics such as FAA regulations, safety standards, operational requirements and equipment that are reasonable for small to large utilities to anticipate utilizing.  The DEED Grant work will be conducted over the next few months and will be submitted to the APPA for review and release in November 2017.
Avion Unmanned is setting the standard for developing a UAS or drone utility program that includes topics on conducting operations, UAS operator qualifications, visual observer qualifications, and training requirements. Along with this, Avion Unmanned wants to identify the potential paths for a utility to take in order to employ drones in the field, and maintain a high level of safety that will reduce costs to utility customers and decrease risk across the board.