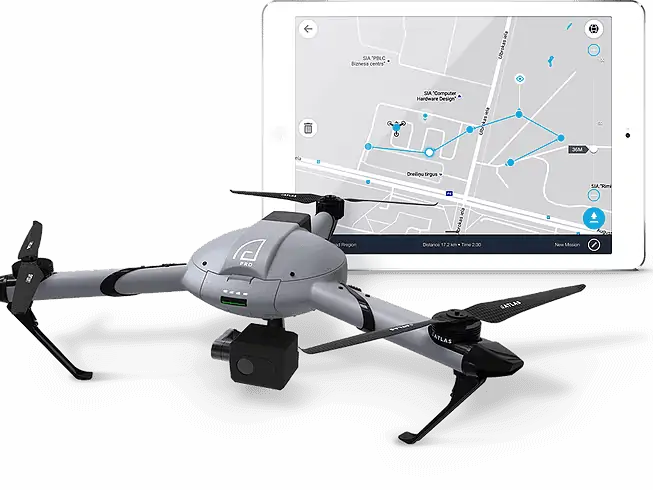 Atlas Dynamics has announced that it will showcase live demonstrations of its autonomous professional drone, the Atlas Pro, at InterDrone 2017. Atlas will partner with US-based Pentagon Performance Inc. (PPI) to deliver the first Pros to customers.
"We are excited to work with Atlas Dynamics to bring the Atlas Pro drone platform to the American market," said Colonel (Ret.) Anthony La Sure, Co-founder and CEO of PPI. "Currently, the professional drone market is fragmented, and plagued by usability and integration issues. The Atlas Pro answers these challenges by providing a complete off-the-shelf solution that we can offer our clients."
Atlas Dynamics' first product, designed and developed exclusively for the professional user, offers a combination of capabilities, including:
55-minute flight time
50 km range
Compact size for portability and accessibility (0.9 KG)
Highly durable, light-weight carbon frame
Weather resistant (IP52)
Autonomous, easy to integrate operating system
Versatile exchangeable payloads
"After founding the company just two years ago, we are launching our first product today. We have been able to quickly reach this milestone as a result of the partnerships, trust and belief we have from major players in the drone space," said Ivan Tolchinsky, CEO and Co-Founder of Atlas Dynamics. "These relationships, together with our passionate and talented team, have helped to drive us forward to achieve our vision of making drones an accessible tool for professionals. The launch the Atlas Pro represents our first step in unleashing the tremendous potential of this market."
Atlas Pro will be commercially available shortly and will address several market segments, including infrastructure inspection, security, precision agriculture and emergency response. The company is also encouraging users to collaborate to discover and define new applications using Atlas' software development kit.