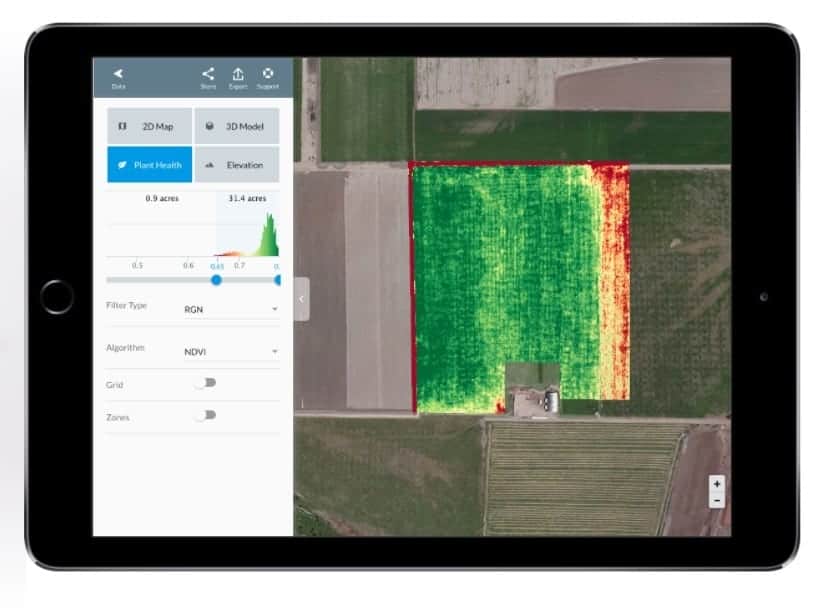 DroneDeploy has announced that it has developed new capabilities for its software platform to help growers perform more accurate plant health analysis and process high-quality maps during all stages of crop growth. Growers can now use DroneDeploy to create field maps using sensors designed for agriculture, including Sentera near-infrared and SLANTRANGE calibrated multi-spectral sensors.
"We've listened to our customers' requests and worked with leading technology partners in the industry to help growers detect crop variability sooner and compare plant health over time," said DroneDeploy CEO and co-founder Mike Winn. In addition, DroneDeploy has released improvements to its proprietary map processing algorithms – just in time to address some of the most common challenges growers face when mapping late-stage crops.
"Until now, stitching late stage crops has remained an unsolved problem in image processing," said Nick Pilkington, CTO and co-founder of DroneDeploy. "We're excited to deliver a solution to our customers that lets them create high quality maps at all stages of crop growth."
Growers looking to use drones have many different hardware options to choose from, and while many begin with the visible spectrum cameras that come as standard on drones like the DJI Phantom 4 Pro, many turn to sensors designed specifically for agriculture in order to perform more accurate, scientific analysis of plant health.
DroneDeploy customers can now fly and capture imagery and process and interpret maps using sensors from Sentera and SLANTRANGE, all compatible with the latest DJI drones. Once a map is complete, users will be able to view, analyze and share plant health data specific to the sensor used, providing an end-to-end solution all within the DroneDeploy software suite.
The supported near-infrared sensors from Sentera, including the High-Precision NDVI Single sensor and the Sentera Double 4K, allow growers to create NDVI (normalized difference vegetation index) maps to accurately detect crop stress.
"Sentera is excited to bring our most popular and most affordable high-precision NDVI sensor to the DroneDeploy platform. We're committed to supporting our customers' preferred workflows and enabling an open and accessible set of downstream analytics based on genuine NDVI and other index products," said Eric Taipale, Sentera's CEO. "Our partnership with DroneDeploy does just that, providing DroneDeploy users a seamless integration with Sentera's high-quality sensors going forward."
The SLANTRANGE 3p sensor captures high-resolution, calibrated, multi-spectral imagery data using patented sunlight calibration algorithms so that growers and agronomists can accurately compare crop data over time.
"SLANTRANGE is committed to promoting an open ecosystem that allows customers to collect and process their data using a combination of tools that work best for their business," said Matthew Barre, Director of Strategic Development at SLANTRANGE. "This partnership gives DroneDeploy customers access to the accuracy and specificity of SLANTRANGE's true multi-spectral imagery."
Late-stage crops pose a challenge for mapping software, which relies upon identifying unique points that appear in several different images to "stitch" together a map. Growers that have used drones for mapping in seasons past are all too familiar with what can result – maps with holes, warped areas, or even maps that fail to process at all. "It's an issue we've been having in the last couple of years, especially in corn crops," said Robbie Weathers, an agronomist in South Carolina. "Trying to stitch together a corn field late in the season is like trying to stitch the ocean – it's really hard." After analyzing data from over 10 million acres mapped and hearing feedback from hundreds of users, DroneDeploy has made significant improvements to a proprietary processing algorithm to address the specific challenges of late-stage field maps. Extensive testing demonstrated that incomplete maps processed using the previous stitching algorithm resulted in complete maps 90-95% of the time when reprocessed using the improved algorithm.
One of the reprocessed maps belonged to Kevin Wright, a corn and soybean grower and commercial drone pilot in Illinois. "Being able to close a hole as big as that," he said, referring to the difference between his original map, and the reprocessed complete map, "it's very impressive – especially for a map flown in windy conditions. It just proves that DroneDeploy is headed in the right direction as far as being able to solve these particular problems."
Not only were the reprocessed maps complete, many of them also showed significant improvements in accuracy and image sharpness. Other improvements DroneDeploy has been making to improve its offering for agriculture include the release of real-time, offline field mapping with Fieldscanner.