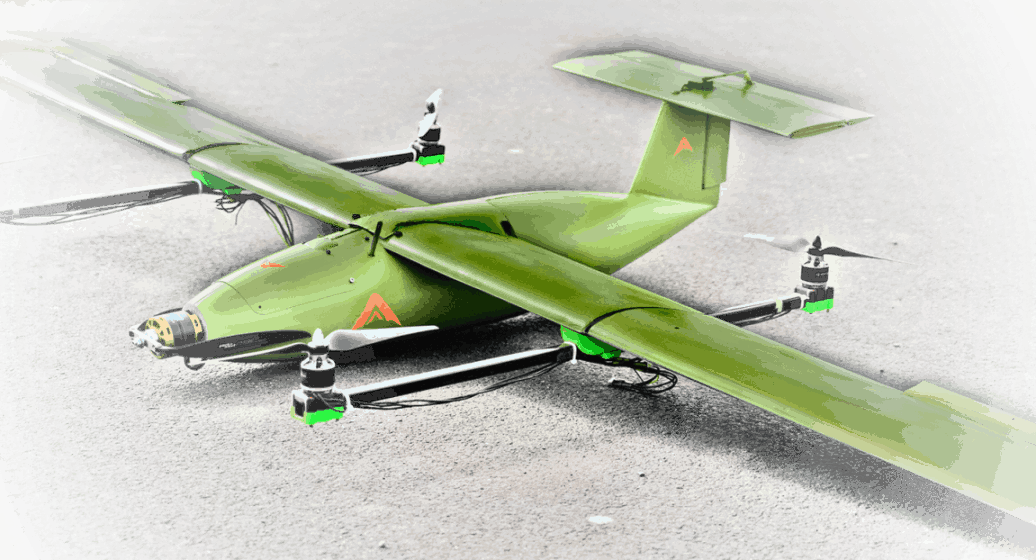 RaptorUAS, a developer of high performance unmanned aerial systems (UAS), has announced that it has completed tests for the conversion of their high performance Raptor E1 UAS to a hybrid VTOL fixed wing platform: the Raptor EV.
The ultra lightweight Raptor EV UAS has achieved five hour endurance at 16.5 m/s in an all-electric platform, with total combined payload of just 3.5 Kg and with a maximum AUW of 9 Kg.
Power consumption of less than 80 Watt has been achieved through the optimization of airfoils, natural laminar flow fuselage, power plant optimization and ultra-lightweight lamination using a combination of aerospace grade nomex honeycomb and ultra-light carbon, aramid and glass fabrics.
Watch the Raptor EV in action:

The Raptor EV UAS can take off and land vertically, thereby eliminating the need for launch catapults or a runway. Hybrid flight modes provide stability in both VTOL and fixed wing flight, whilst the fully automated return to launch and landing capability ensures the UAS can land safely without pilot input.
Designed specifically for precision agriculture, habitat research,  high precision land surveys, and ISR missions, the Raptor EV can collect up to 10,000 hectares of multispectral imagery in one charge.
Triantafyllos (Trias) Gkikpoulos from RaptorUAS commented, "Over the last two years we have demonstrated class-leading performance in the small UAS fixed wing platform market. When Cella Energy released their compact solid state Hydrogen Fuel system, we enabled them to get their system airborne (read more here). We also worked with Horizon Energy Systems and demonstrated a successful compressed hydrogen Fuel Cell setup commercial proposition. These collaborative projects are a testament of the payload carrying capacity of our platform under restricted power conditions and the performance pedigree of the Raptor E1 platform."
"While the performance of this system is truly unique, we want to make this accessible to a wider audience. In order to be able to deliver a high quality system at a reasonable price we need to gear up to manufacture 24 units, with our aerospace composite partner in England. This will allow us to deliver a ready to fly system priced at just £24,999. If we complete our pre-order book by the end of June, first system deliveries will be at the end of August. We will also release the first 10 pre-orders for only £19,999."
RaptorUAS understand the risks associated with acquiring a new UAS platform, so have set up a product acquisition program that allows users to hire a new system for one week of testing for "£5,650" which will be refunded upon system purchase.
To find out more about the Raptor EV endurance hybrid VTOL fixed wing UAS, contact the team at RaptorUAS.
Specifications:
Cruise Speed: 16-18 m/s
Maximum Speed: 24 m/s
Stall Speed: 12 m/s
Engine: Brushless motors
Power: LiPo
Length: 1.2 meters/3.9ft
Wingspan: 3.0 meters/9.8ft
Operational Ceiling: 8,000m/26,000 ft.