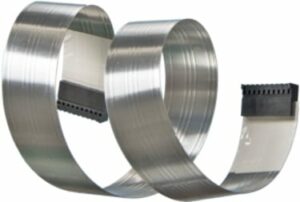 Nicomatic has released its latest product development, V Shield. V Shield is a shielding option designed for dynamic flexing applications; it is applied during the in-house manufacturing process and provides EMI/RFI & ESD protection. The flexibility allows optimal routing of cables with minimal stress on joints in small space situations such as unmanned systems and other robotics.
Nicomatic's available standard range includes:
V Shield Flat Flex Cable: available standard from 1.00 to 2.54 mm pitch. FFCs are soldered directly or mated with ZIF/LIF standard connectors. Available in any length from 60 to 2000 mm, with other lengths available on request.
V Shield Jumper/Extension Cable: Nicomatic's CrimpFlex jumper cables are dedicated to connections from board to board in 2 market standard pitches, 1.27mm and 2.54mm. They allow for better retention compared to FFCs used with ZIF/LIF connectors, thanks to a large choice of CrimpFlex contacts and CrimpFlex housings designed for a variety of applications. Both the 1.27 & 2.54 mm Jumper Cables can be externally or internally grounded to any conductor.
V Shield MicroFlex: a shielded and flexible flat polyester cable harness with a screw fixing for high-vibration environments. Mates with Nicomatic's CMM 220 connector for high mechanical resistance. Tested to meet MIL-DTL-55302F standards & provides up to 60% weight reduction versus round cable. Three versions are available Female-Female, Solder Pin-Female and Octopus, with multiple branches.
Testing shows a flex life of 10 million flex cycles at a bend diameter of 63.5 mm (2.5 inches). The new V Shield technology aims to help engineers solve some of the major EMI interconnect challenges faced during the design process.