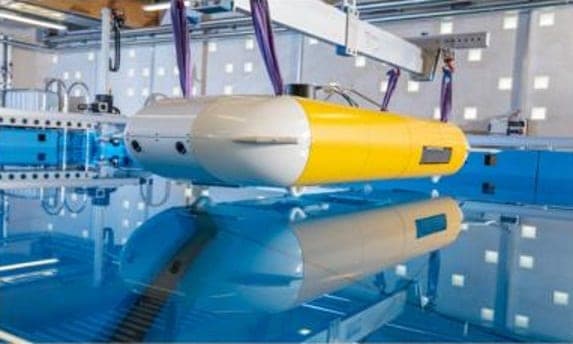 Kraken Sonar has announced that its wholly-owned subsidiary, Kraken Sonar Systems, has formally taken delivery of ThunderFish Alpha – a next generation Autonomous Underwater Vehicle (AUV) designed for deep sea military, commercial and scientific applications.
The ThunderFish Alpha AUV (formerly called DEDAVE) was developed by Germany's Fraunhofer Institute and will be used as a technology demonstrator platform to support ongoing development of Kraken's underwater sensor and robotics programs.
Kraken previously announced an exclusive licensing agreement for underwater robotics technology with the Fraunhofer Institute, the largest organization for applied research in Europe. Since 2012, Fraunhofer has been developing intellectual property related to underwater robotics. Over C$6 million has been invested in Fraunhofer's underwater robotics programs, culminating in the development of the DEDAVE AUV, which has now been acquired by Kraken.
The Fraunhofer AUV program was developed to create a versatile and compact vehicle that is easier to handle than existing systems while providing increased modular payload space and faster turn-around survey times. The vehicle can operate in ocean depths up to 6,000 metres and is equipped with state-of-the-art sensor systems, including Kraken's AquaPix MINSAS sonar. Other sensors include obstacle avoidance sonars, multi-beam echo sounder and advanced navigation/positioning sensors. It incorporates pressure-tolerant battery technology from Kraken Power GmbH, Kraken's DataPod data storage modules and a distributed control system architecture. This allows the AUV to quickly complete survey missions, offload survey data, enable efficient integration of additional payloads and provide more battery capacity for increased operational endurance.
Kraken plans to upgrade ThunderFish Alpha with larger sensors, including Kraken's MINSAS 120 sonar with Real Time SAS Processor and its SeaVision 3D Underwater Laser Imaging System. The vehicle size will be increased to support the larger payload capacity and the addition of tunnel thrusters to provide hovering capability for target inspection and precision maneuvering.
While the ThunderFish Alpha platform will be used primarily as a technology demonstration platform, it will also test operational performance related to maritime Robotics as a Service.
Karl Kenny, Kraken's President and CEO, said, "The delivery of ThunderFish Alpha is yet another milestone in Kraken's evolution to becoming a vertically integrated underwater robotics company. Over the past few years, AUVs have evolved from an emerging, niche technology to a viable solution and an established part of operations in military, commercial and research applications. The recent shift in industry focus from AUVs being platform/hardware-centric to becoming sensor/software-centric is creating significant sector growth potential for cost-effective and autonomous platforms."