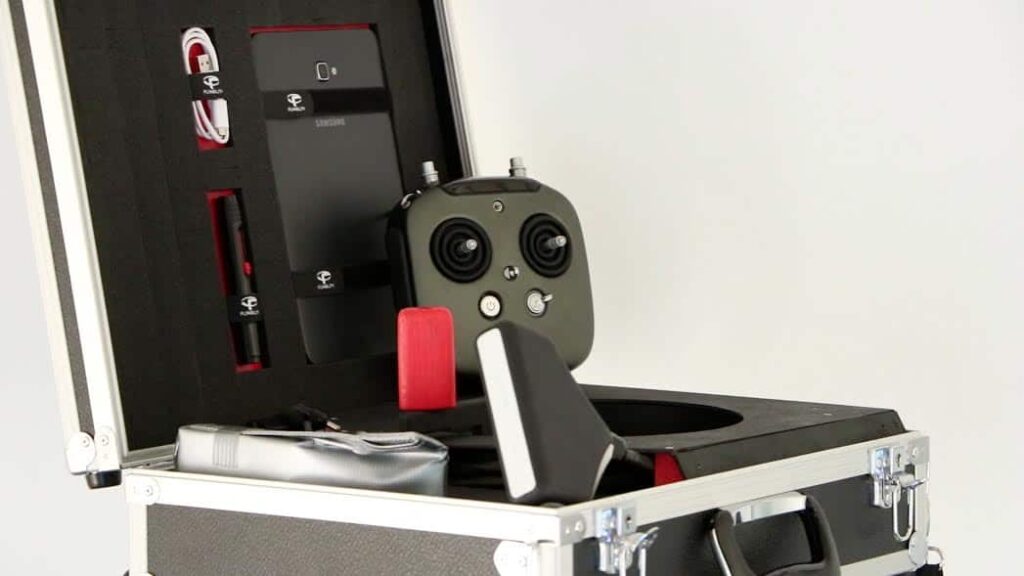 Flyability SA has announced the introduction of the Range Extender, an accessory for the company's collision-tolerant indoor drone Elios. The Range extender opens new applications for demanding indoor drone inspection and exploration missions, where communication between the drone and the pilot is particularly difficult.
In environments such as underground galleries, stacks or mines, signal propagation can be limited by the geometry of the place to inspect and remotely operating a robot becomes difficult. By placing the remote control antennas to a better location, closer to the drone, it is possible to extend the range of the drone. To that end, Flyability has developed the Range Extender: an accessory that connects to Elios ground station, providing an extended signal reach for beyond line-of-sight operation.
"Since we released Elios, a year ago, we performed many field trials and could experience multiple use cases where having an extended reach is not only beneficial for the safety of the operator but sometimes provides access beyond what was previously accessible, enabling new use cases", says Flyability CTO, Dr. Adrien Briod. "One of the first experience we had was related to the inspection of sewers. This environment made of rocks and concrete is definitely hard on signal propagation and with the Range Extender our customers can safely stand on the ground while operating the drone, underground, 20 meters below."
Other use cases involving the inspection of closed areas presenting a high risk of hazards, like a boiler with aggregates threatening to detach from the superheater or a degraded stack with fragments falling from the walls, highly benefit from the use of a Range Extender. By deploying it through the manhole giving access to the place to inspect, the pilot can safely stay outside of the hazardous zone and operate Elios with peace of mind as the drone will always fly within reach of the signal.
"From the experience we've had with our customers in the field, we learned a lot on the conditions in which the drone is operated, and the difficulties it sometimes represents to reach the place from where the drone will be deployed", says Flyability Product Manager Arnaud Janvier. "With that in mind, we've designed the Range Extender carrying case – which houses all the elements needed for a mission – to be easily worn over the shoulder to cover the last mile that brings you to the site of inspection."
The Range Extender is composed of an omnidirectional antenna module, 20 meters of cable and an integrated reel to ease deployment and packing.The operator connects the ground control station to the Range Extender, plugs a battery in and is ready to fly. Once packed, the Range Extender carrying case fits into the main transport case along with Elios.