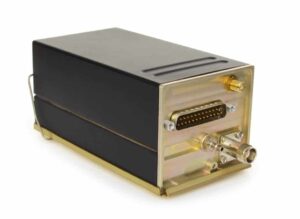 Trig Avionics has announced the TT26, a multi-mission device for unmanned aircraft systems (UAS) with four fully certified products in a single box. Weighing just over 1lb the TT26 contains a certified Mode S transponder, ADS-B Out (TSO C166-B), certified GPS (TSO C-145) and a certified altitude encoder. Intended for serious UAS operations, the TT26 is certified to 70,000 feet, and the GPS and altimeter can be used as the primary navigation and altitude source for onboard auto-pilots – saving additional space and weight.
Jon Roper, Marketing Manager at Trig said, "The TT26 provides a totally new capability for the UAS market. Now operators can install a single device that provides the highest levels of surveillance compliance and is highly affordable. The TT26 will help build solid credibility with regulators and other airspace users."
Designed to integrate with existing and new UAS platforms, the TT26 can be embedded with onboard UAS auto-pilot technology by using industry standard RS232 and RS485 interfaces. This capability can enhance the surveillance technology of older UAS designs as a retro-fit, or to demonstrate future proof performance in the next generation of UAS designs. The unit's design means that the TT26 can be accommodated adjacent to other avionics. It requires no external cooling fans and works in a wide range of temperatures.
Jon Roper added, "As the UAS industry moves closer to BVLOS (beyond visual line of sight operations) the TT26 is the right product at the right time. It gives UAS operators the means to satisfy the strictest surveillance requirements and demonstrate best practice."
Find suppliers of Control & Navigation Solutions for UAVs >