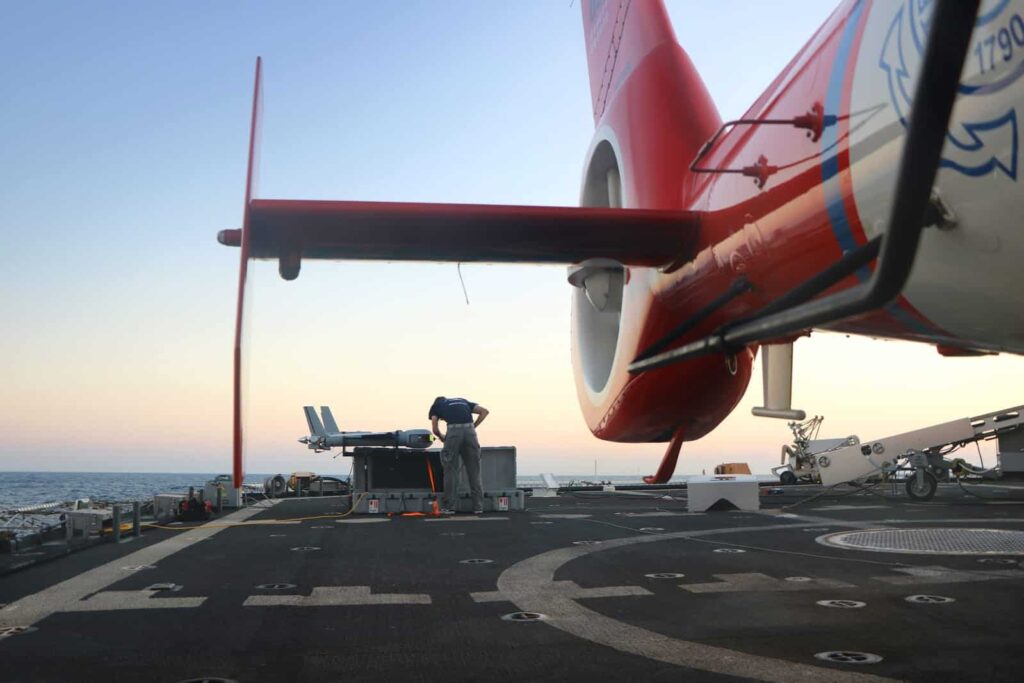 Insitu has announced that the ScanEagle small unmanned aircraft system (sUAS) deployed aboard the U.S. Coast Guard cutter STRATTON has directly assisted the crew with conducting four interdictions, seizing more than 1,676 kilograms of illicit contraband valued at $55 million and apprehending ten suspected drug traffickers. STRATTON was the first U.S. Coast Guard cutter to deploy fully equipped with an sUAS for an entire patrol.
During the six-week deployment in the eastern Pacific Ocean, ScanEagle flew 39 sorties for a total of 279 hours, including one operation where the aircraft provided persistent surveillance for 22.7 flight hours in a 24-hour period. ScanEagle was equipped with multiple sensors including electro-optic, thermal and telescope cameras that delivered a range of aerial imagery to the STRATTON crew and decision makers, enabling them to better execute real-time actionable intelligence. The information ScanEagle provided will assist with prosecution efforts by the U.S. Department of Justice.
"We are proud to celebrate the great success of this first deployment, and thank these brave men and women of the U.S. Coast Guard for the work they do to keep our nation and our global waters safe," said Ryan M. Hartman, Insitu's president and CEO.
The CGC STRATTON deployment is the first under Insitu's latest contract award to provide UAS ISR services aboard one Coast Guard national security cutter. The Coast Guard has also recently released a draft request for proposal to procure sUAS capabilities for its entire national security cutter fleet.