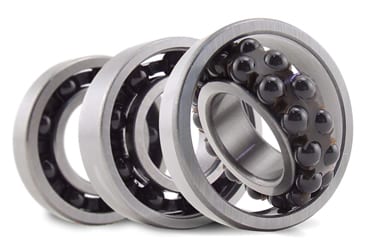 The Boca Bearing Company has announced its new extended line of ceramic hybrid deep groove radial bearings, ceramic hybrid thrust bearings, ceramic hybrid EMQ bearings, and ceramic hybrid insert bearings. Ceramic is a highly suitable material for applications that require higher RPMs, reduction in overall weight, or reduction in required energy, such as mechanical systems in unmanned aerial vehicles (UAVs) and other robotic vehicles.
Ceramic hybrid ball bearings use ceramic balls and steel races. Ceramic balls weigh up to 40% less than steel balls, depending on size. This reduces centrifugal loading and skidding, so hybrid ceramic bearings can operate up to 50% faster than conventional bearings. This means that the outer race groove exerts less force inward against the ball as the bearing spins. This reduction in force reduces the friction and rolling resistance. The lighter ball allows the bearing to spin faster, and uses less energy to maintain its speed.
Ceramic silicon nitride balls exhibit much greater hardness than steel balls resulting in at least 10 times greater ball life due to the ability to hold the surface finish longer. The ball has dramatically smoother surface properties than the best steel ball resulting in less friction between the balls and bearing race surfaces. Thermal properties are also dramatically improved over steel balls resulting in less heat buildup at high speeds. Ceramic has 35 percent less thermal expansion, 50 percent less thermal conductivity, are lighter weight and are non-corrosive.
Similarly, the inner and outer races of antifriction bearings often become frosted, fluted, or can get a corrugated pattern imprinted on them. These are not mechanical scars but are due to electromagnetic forces and can lead to bearing failure. They are usually found in modern systems that routinely feature pulse-modulated adjustable-speed motors and inverters with high switching frequencies and short rise times. The best solution substitutes ceramic hybrid bearings for the more traditional, chrome steel counterparts to eliminate pitting and scarring and also run cooler due to less micro-weld adhesion.