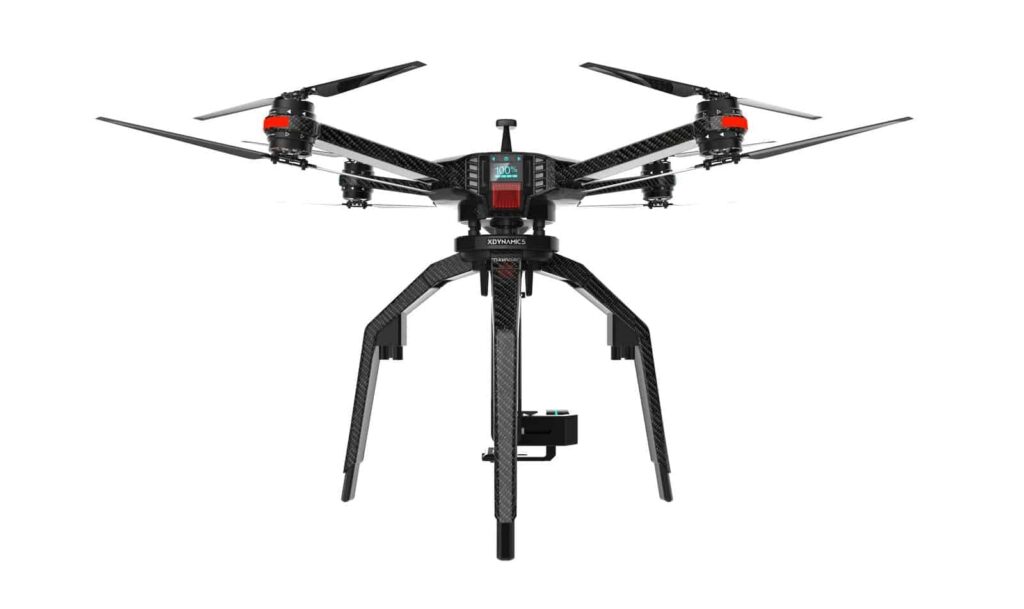 XDynamics has announced the introduction of the D-02, its next-generation aerial platform for professional drone cinematography and industrial applications. The D-02 is an industrial grade unmanned aerial vehicle (UAV) optimized for customization, compatible with a wide range of accessories, sensors and cameras. The D-02 will be showcased at the NAB Show 2017 in Las Vegas.
XDynamics D-02 is a customizable aerial platform designed with modularity in mind. Manufacturers and enterprise users can build upon the smart X8 octocopter to develop drones that fulfill specific needs, with the ability to customize propulsion systems, sensors, gimbals and cameras.
During the D-02's initial launch, XDynamics will make available sets of propellers suitable for different atmospheric conditions and desired performance. The first gimbal will be made for DSLR cameras and will be easily adjustable to support different models of professional cameras and lens. The 3-axis motorized gimbal will eliminate vibrations, provide precise motor rotation, and allow stable and smooth footage to be captured, making it an ideal choice for professional filmmakers and cinematographers. All gimbals will be interchangeable with the ability to be attached and released quickly.
Benny Chan, CEO of XDynamics, said, "XDynamics D-02 is an inviting drone, in the sense that the product is custom-made to suit different professional needs with a suite of accessories and cameras to choose from. We welcome professionals across industries to set out their requirement with us, so we can build together the best drone for the industry-specific use case."
The D-02 is a portable X8 octocopter with a monocoque chassis of carbon fiber, propelled by 8 motors arranged in an "X"-shaped frame, with 2 on each of the 4 foldable arms, supported by retractable landing gear. The structure provides significant dual redundancy, allowing the D-02 to fly and land with stability despite failure of some of the motors. Redundancy is also featured in systems of batteries, IMU (inertial measurement unit) and GPS modules, to ensure the safety of the aircraft and surrounding people and property. A secondary camera is also available at the front of the drone to show the pilot where the drone is headed and any obstacle ahead.
Leveraging Amimon's "zero latency" wireless broadcasting technology, the D-02 delivers wireless live view performance with 1080p full high definition video at 60fps and transmission latency below 10 milliseconds. Delay-free image transmission makes D-02 suitable for commercial TV and film production, which requires accurate framing and composition in real-time. It also allows users to fly safely by observing and responding immediately to the drone's surrounding, during infrastructure inspection, surveillance and other applications. Users can connect via HDMI and enjoy live view from their camera of choice with minimum latency.