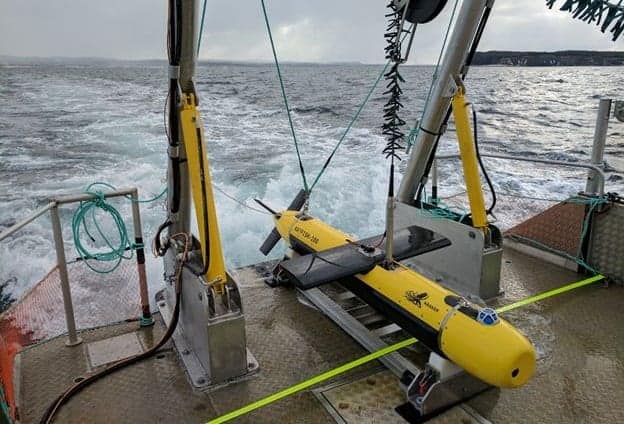 Kraken Sonar has announced that it has successfully completed phase one sea trials of its KATFISH towed Synthetic Aperture Sonar system.
Karl Kenny, Kraken's President and CEO, said: "These are exciting times in the underwater robotics industry. Customers are starting to fully understand the cost and risk mitigation benefits of unmanned systems. Both military and commercial markets are showing encouraging growth as they are now incorporating unmanned vehicles and intelligent sensors in their procurement plans and budgets. In fact, industry analysts Market Info Group estimates that the global unmanned maritime systems market will reach $2 billion by 2020."
The goals of the initial sea trials were to validate KATFISH towing performance at various speeds and sea states; to operate and validate the system's hydrodynamic flight sensors; and to operate onboard sonars including the AquaPix MINSAS 180 Synthetic Aperture Sonar. Other system sensors that were tested included a high accuracy Ultra Short Base Line positioning system utilizing both topside and underwater inertial navigation; and platform sensors for velocity, current, temperature and depth measurements. The manually operated KATFISH Launch and Recovery System, designed by Kraken's Handling Systems Group based in Dartmouth, Nova Scotia, was also tested and evaluated.
To date, tow speeds up to 8 knots have been successfully demonstrated in shallow water depths up to 50 metres and in sea state conditions up to Beaufort 5 scale. In all sea states and towing conditions, the hydrodynamic stability of the KATFISH exceeded expectations.
Dr. Tom Tureaud, Kraken's Vice President for Underwater Systems said, "We are very pleased with the positive results from the initial sea trials of KATFISH. We are confident that the KATFISH system will provide a considerable advancement in seabed survey missions for military and commercial applications."
Phase Two testing has several operational objectives. The operational depth will be increased to 200 metres, resulting in significantly higher drag forces and a corresponding larger vertical maneuvering envelope. Operators will also be evaluating the first version of Kraken's new SASView 3D visualization software.
At the same time, target detection performance of the first commercially available MINSAS 180 sonar will be evaluated, using known targets of opportunity for detailed resolution and range measurements. Finally, Kraken's innovative Fault Detection and Fault Response (FDFR) system will be integrated into the KATFISH and exercised through the complete operating envelope, helping to ensure safe and efficient operations.
Upon completion of Phase Two sea trials, the KATFISH system will undergo final Factory Acceptance Testing. Shipment to the customer is planned for April 2017 followed by integration of the system onboard the customer's Unmanned Surface Vessel.