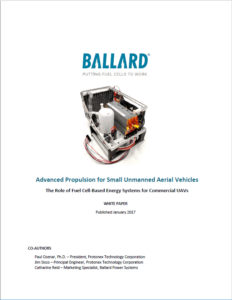 Ballard Power Systems, a developer of fuel cell-based propulsion systems, has released a technical whitepaper that comments on the role of fuel-cell based energy systems for commercial unmanned aerial vehicles (UAVs).
The paper discusses the applicability of fuel cell‐based propulsion in the next phase of UAV commercialization; particularly in platforms with a gross take-off weight (GTOW) of 3‐25 kilograms.
Download the full whitepaper (opens in PDF).
Hydrogen fuel cells have come to the forefront as a solution to the challenges and limitations that are associated with the use of batteries or internal combustion engines in small UAVs. Both of these technologies will limit the use and efficacy of UAV systems as the technology continues to evolve and its capabilities expand, requiring gains in autonomy, range, and reliability.
First demonstrated in military UAVs, fuel cell systems have now been proven from a reliability, durability, and range perspective, opening doors to commercial and civilian applications. Fuel cell‐powered systems offer compelling value for unmanned aerial vehicles due to improved reliability over small internal combustion engines, enhancing safe and low maintenance operation. UAV systems powered by fuel cells operate longer than their battery counterparts, with the same benefits of low thermal and noise signature.
The paper covers in detail the challenges associated with incumbent technologies (batteries and small internal combustion engines), provides comparisons with fuel cells and presents a number of case studies.
The article then discusses a number of factors that should be considered when designing a fuel cell powered UAV, including: size, hybridization, and fuelling options.
Download the full whitepaper (opens in PDF).
Protonex Technology Corporation, a wholly owned subsidiary of Ballard, has developed a PEM fuel cell propulsion module. The scalable module includes the fuel cell stack and key balance of plant components that make for straightforward integration into UAV platforms. As experts in portable power solutions, Protonex understands the needs of unmanned systems when it comes to power.
Find suppliers of Fuels Cells for unmanned applications >