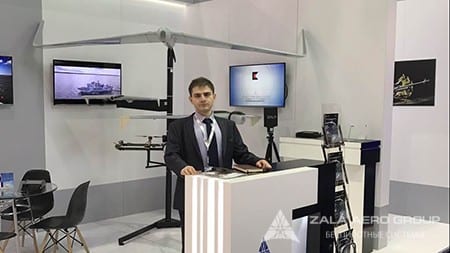 Zala Aero Group has unveiled the ZALA 421-16E2, its latest unmanned reconnaissance and surveillance aircraft.
Introduced at IDEX-2017, the new ZALA 421-16E2 UAV has a takeoff weight of 7.5 kg and a four hour flight duration. Designed to operate even in harsh winter conditions at temperatures of -40C, the drone has a in-built inertial system, electronic telemeter, and a block of self-diagnostics sensors that provide full autonomy from the UA satellite GPS / GLONASS navigation systems and guarantee the fulfillment of tasks.
Launched by hand with an elastic catapult, the ZALA 421-16E2 has an internal air shock absorber to protect the payload on landing, and also features an automatic tracking module. The unit can be controlled using a real-time controller (KRV-7), which eliminates the need for operating systems in the control loop, making the system more secure.
A camera with 60x optical zoom and a thermal imaging device with 10-fold optical scope allow for the transmission of data, with a range of 30-50km, even in harsh and complex weather conditions making the system ideal for intelligence and reconnaissance missions.
First deliveries of the unit are expected in Spring 2017, following two years of design, development and testing.
The Zala Aero Group has sold over 2,000 ZALA UAV units to both military and civilian operators, with more than 30 orders for special purposes by the Russian Interior Ministry and the Russian Ministry of Emergency Situations.