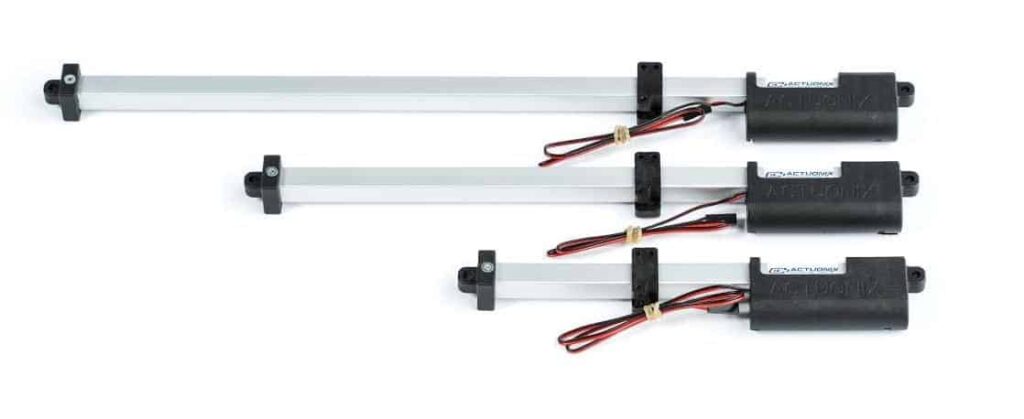 Actuonix Motion Devices has announced the launch of the new T16 line of micro linear track actuators. The T16 line has been designed specifically to meet the growing need for smaller motion products in several industries including robotics, vehicle automation, and aerospace applications such as unmanned aerial vehicles (UAVs).
"We're proud to announce the launch of our new T16 track linear actuators," said Actuonix's Marketing Coordinator, Mike Greig. "These 18 new models bring our complete line of linear motion products up to 164 unique linear actuators. We strive to offer an affordable linear motion solution for every application."
Standard micro linear actuators are not an ideal solution for every application. By design, linear actuators are long as the shaft needs space to retract inside the device. Actuonix's new track actuators are shorter for the same amount of travel, thus saving space.
Linear track actuators are also better suited to applications where a side-load is present. Micro linear actuators are tolerant to minimal side loads, but some applications require more.
Currently, there are 18 new models of track actuators available, offered in 100mm, 200mm and 300mm strokes. The 300mm track actuator represents the longest stroke product that Actuonix sells. The T16 line is offered with the same gearing options as the P16 line (22:1, 63:1 and 256:1) and is available as P or S series, giving several options for control.
Find suppliers of Actuators for Unmanned Applications >