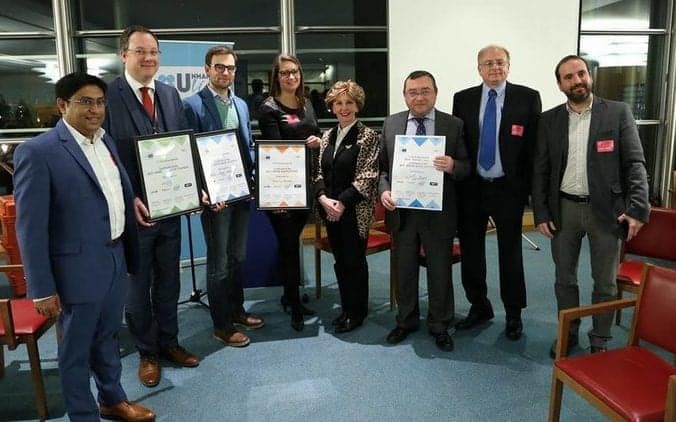 Microdrones has been awarded the 'Best Drone Manufacturer' award at the E.U. Drone Awards, held on January 24 at the European Parliament in Brussels.
Hosted by the European Young Innovators Forum (EYIF), the E.U. Drone Awards were created to celebrate the innovative European companies that are laying the foundation for the drone industry's success.
Out of 50 candidates from 14 countries, nine finalists were selected in three categories: Best Drone Manufacturer, Best Drone-based Application, and Best Emerging Drone Company.
"We are very proud and honored to receive this award," said Mirjam Braas, Microdrones Marketing Manager for Europe. "The entire Microdrones team is extremely dedicated and hard-working and we appreciate the recognition."
As the manufacturer of the world's first commercial quadcopter, Microdrones is considered an industry pioneer – and they're still pushing the limits of the professional drone industry.
"The E.U. Drone Awards are the result of an amazing competition that celebrated the know-how of the most talented European companies," remarked E.U. Drone Awards project manager Maelle Gomez. "We sincerely congratulate Microdrones on this victory and wish them the best for the future."